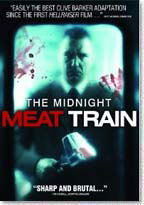 Leon (Bradley Cooper) is a photographer who heads into the city's subway system at night to take photographs. He begins to investigate newsreels about midnight disappearances, which leads him to a butcher named Mahogany (Vinnie Jones), who he suspects has been killing subway passengers for over 100 years. He goes to the subway at midnight, where he witnesses the butcher killing passengers and hanging them on meat hooks.
Leon passes out after being attacked by the butcher, who then strings him up as well. He awakens the next morning in an abandoned subway platform with strange markings carved into his chest. Maya (Leslie Bibb), Leon's girlfriend, and her friend Jurgis (Roger Bart), examine the photos Leon has been taking of Mahogany, leading them to the killer's apartment.
Jurgis is kidnapped and Maya goes to the police, but they will not listen to her. A police official, who seems to be involved with the conspiracy, directs Maya to a trip on the midnight train. Leon decides to put an end to the butcher's crimes and heads to the meat packing plant Mahogany works in.
Quite possibly the most overlooked and mishandled horror films of the past 20 years, The Midnight Meat Train truly lives up to it's title and MPAA Unrated status. Ryuhei Kitamura does a masterful job of directing this bloodbath with some of the most innovative kill shots even seen in a horror film. Vinny Jones is perfectly cast as the butcher (aka Mahogany) who maims, dismembers and disembowels the passengers unlucky enough to board his late night train.
What separates The Midnight Meat Train from the usual run of the mill horror film is the sheer brutality and violence that is presented unflinchingly by Kitamura. The ending of the film is shocking (to say the least) and one of the best I have ever seen. I'm still baffled as to how Lionsgate could have mishandled this film so poorly as it got virtually no theatrical release and no promotion. This is truly one of the strongest horror films of the past decade.

Director: Ryuhei Kitamura
Year of Release: 2008

Character to watch: Bradley Cooper as Leon Kauffman.
Journal your answers to the following questions after you watch the movie.
How does this particular character's journey compare with yours?
Did the character develop certain characteristics during the movie that you have or that you would like to have? If so, what are those characteristics?
What obstacles did this character face? What was his or her biggest challenge?
What would you have done differently if you had been in the same position as the character?
Is this character the type of person you would be friends with? Why or why not?