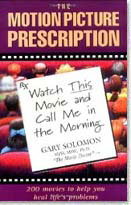 If you have a love of movies and an interest in psychological matters, The Motion Picture Prescription: Watch This Movie and Call Me in the Morning is for you. It guides the reader to films that address a situation or a particular need. A specific recommended movie may provide therapeutic help in the viewing. It's also simple fun to read and remember old films, to take another peek from today's perspective.
I was skeptical when I read the book but when I put the author's suggestions into practice I found it to be a great experience. As an added bonus I got to enjoy some movies that I never would have watched otherwise. The key is to follow the author's suggestions about how to use the movies in one's healing process and not just watch the movie(s). I highly recommend the book particularly for those who want to explore relationship issues.
About the Author: Gary Solomon's books on Cinema Therapy are written as a therapeutic tool for therapists to use for treating patients, clients and groups. Additionally, patients and clients have found benefit for their own personal use. Gary he has lectured all over the world on the topic of Cinema Therapy and he has been on national television and worldwide radio. He currently teaches psychology at the College of Southern Nevada in Henderson, Nevada.
Author: Gary Solomon
Year of Release: 1995