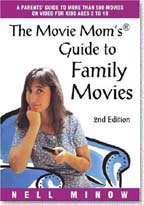 Nell Minow's popular parents' guide to managing the media has hundreds of movies for families with children between 2-18 and advice for parents on how to use what they watch to bring families closer. It's a great book for families trying to figure out quickly what to watch with kids on movie night.
The Movie Mom's Guide to Family Movies is a comprehensive guide that lists crowd-pleasing, quality movies by age ranges listed after each movie, even in the index. The book describes the movie plots and includes sage advice on talking to children about movies, with some questions for discussion. The book could be used almost as a home-schooling curriculum.
About the Author: Nell Minow reviews movies for Yahoo! and radio stations across the US and Canada and writes the Media Mom column for the Chicago Tribune.  She writes about movies, television, the Internet, and parenting and reviews movies each week for Beliefnet.com and radio stations across the US and Canada. Her articles have appeared in the Chicago Tribune, the Chicago Sun-Times, the Kansas City Star, USA Today, Family Fun, Daughters, Parents, and three editions of The Practical Guide to Practically Everything.
The second edition of her books, The Movie Mom's Guide to Family Movies, was published in 2004. She has been profiled in the New York Times, the Economist, Forbes, the Chicago Tribune, Working Woman, CFO Magazine, the Ladies Home Journal, Washingtonian Magazine, and the Chicago Sun Times, and has appeared as The Movie Mom on CBS This Morning, Fox Morning News, NPR, CNN, and dozens of radio programs. She is a graduate of Sarah Lawrence College and the University of Chicago Law School.
Her radio show is great, but this book is even better. The Moviemom is smart and funny and not afraid to cross swords with Hollywood in the interests of common sense and good taste. This is a great book.
Author: Nell Minow
Year of Release: 2004