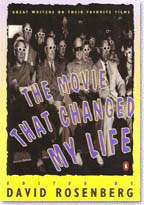 In essays that function at once as film criticism and autobiography, 23 writers recall the films that shaped them in this thoughtful and moving book that explores the mysterious interplay of art and life. Includes Russell Banks on Bambi, Joyce Carol Oates on Dracula, and Harold Bloom on The Fatal Glass of Beer.
This book's introduction promises a highbrow collection of 23 essays. However, the novelists, poets, and critics who analyze seminal films from their youths deliver often disturbing dissections, and at times discover or conjecture ugly or naive underpinnings in some cherished movies.
Doubtless we learn as much about the writers' worldviews as we do of the films. Some of the movies explored in seven categories are Bambi (Russell Banks), Shadow of a Doubt (Meg Wolitzer), The Thing (Clark Blaise), Love Me or Leave Me (Bharati Mukherjee), Z (Louise Erdrich), Seven Brides for Seven Brothers (Francine Prose), and The Birth of a Nation (David Bradley). Recommended only for large film and popular culture collections.
About the Author: Poet-scholar David Rosenberg is co-author of the New York Times bestseller, The Book of J (with Harold Bloom), and the former editor-in-chief of the Jewish Publication Society. A poet of Toronto Coach House, New York School, and Jerusalem Cricket lineage, he has published several volumes of poetry. A Literary Bible presents thirty years of his original translation from ancient Hebrew.
Rosenberg is a survivor of the writing programs at The New School (with Kenneth Koch and Robert Lowell), University of Michigan (with Donald Hall), Syracuse University (with Delmore Schwartz), and University of Essex, England, where he pursued doctoral studies. He taught for several years at York University (Toronto), the City University of New York, and as a Master Poet for the New York State and Connecticut Arts Councils.
Author: David Rosenberg
Year of Release: 1993