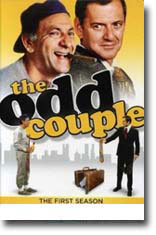 Jack Klugman and Tony Randall give an advanced course in chemistry in the auspicious first season of The Odd Couple, which would only get better as the veteran character actors made themselves at home in their signature roles and the series switched from a laugh track to a live audience.
In these first episodes, The Odd Couple hews pretty much to the voice and spirit of Neil Simon's play about mismatched roommates, sloppy sportswriter Oscar Madison and "miserable, picky, irritating" photographer Felix Unger.
Playing pivotal roles this first season are Felix and Oscar's poker playing buddies, Murray the cop (Al Molinaro), Vinnie, Roy, and Speed, the fabulous Pigeon sisters (Monica Evans and Carole Shelley reprising their Broadway and film roles), and, of course, Neil Hefti's jaunty, jazzy theme, which was introduced in the 1968 film by the same named.
The series would establish its own identity and supplant previous incarnations in the public's consciousness. The Odd Couple was never a ratings smash before it became a syndication staple. The series' loyal following is amply rewarded with this five-disc set. In addition to all 24 first season episodes, a bonus disc contains four billed as "Tony and Jack's Favorite Episodes," including the one where Oscar attacks Felix in his sleep, and the duo are paired as contestants on the game show Password.
The Odd Couple is the very model of a classic character-driven comedy. From its dream-team casting to the literate, witty writing, there is nothing odd about why this series' remains one of the most beloved in all TV Land.

Character to watch: Tony Randall as Felix Unger.
Journal your answers to the following questions after you watch the series.
How does this particular character's journey compare with yours?
Did the character develop certain characteristics during the movie that you have or that you would like to have? If so, what are those characteristics?
What obstacles did this character face? What was his or her biggest challenge?
What would you have done differently if you had been in the same position as the character?
Is this character the type of person you would be friends with? Why or why not?