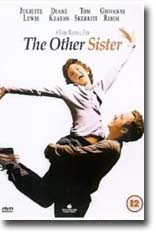 Filming a love story centered on two mentally challenged people is a touching idea, one that's been attempted in films such as Benny and Joon and even, to a certain extent, As Good As It Gets.The Other Sister is another addition to the genre, a well- acted comedy-drama centering on the romance of Carla (Juliette Lewis) and Daniel (Giovani Ribisi) and throwing in some general family angst as a secondary story line. The acting is tremendous and Lewis and Ribisi both give convincing performances without condescending to their characters.
Diane Keaton plays yet another charming scatterbrain, this time as Elizabeth Tate, the uptight, rich mother who wants a picture-perfect life. But good acting isn't enough here.
These fine actors drown in a sea of mediocre writing, and we're left with a film with no real conflict or tension. Will Carla and Daniel make it work? Well, of course. Will mother Elizabeth loosen up about her "gay workaholic" daughter and let Carla live her own life? Do you really need to ask?
There are a few cringe-worthy moments that have a sense of truthfulness, such as when Daniel stands up at Carla's sister's wedding to announce his feelings. But otherwise, these characters live in a pampered, fairy-tale world where the worst thing that happens to them is that the meanies at school put chewing gum in Daniel's bike helmet. Ultimately, this is a sweet, albeit occasionally saccharine, tale that will move those who are looking for cheerful fare.
The overwhelmingly fine performances by Lewis and Ribisi that are of the quality of commitment that seeing them on repeated viewings just fortifies the brilliance of their acting. These two people are people we readily love and grow to feel their fears, pain, frustration, and dreams. If ever there was a film that was able to read from the inside of the minds of the mentally challenged and find the mysteries there, then this is the film. An outstanding cast and a very fine director in Garry Marshall make this movie a keeper.
Director: Garry Marshall
Year of Release: 1999

Character to watch: Juliette Lewis as Carla.
Journal your answers to the following questions after you watch the movie.
How does this particular character's journey compare with yours?
Did the character develop certain characteristics during the movie that you have or that you would like to have? If so, what are those characteristics?
What obstacles did this character face? What was his or her biggest challenge?
What would you have done differently if you had been in the same position as the character?
Is this character the type of person you would be friends with? Why or why not?