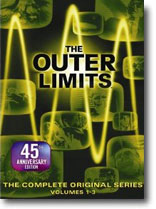 From the moment Vic Perrin's omniscient "Control Misused inventions, interplanetary communication, and warped time peculiarities permeate the 1960s science fiction anthology program The Outer Limits. Created by Leslie Stevens, the program gained a rabid cult following and influenced a myriad of sci-fi that would follow, including a second Outer Limits series in the 1990s. This is the complete collection of all episodes of the original series.
Voice" first proclaimed, "There is nothing wrong with your television set," on September 16, 1963, The Outer Limits was destined for greatness. The dazzling, long-beloved series was a daring experiment in "omnibus" TV, trading the speculative fantasies of The Twilight Zone for farther-out sci-fi concepts. Producers Leslie Stevens and Joseph Stefano had risen as gifted writers from (respectively) Broadway and Hollywood; Stevens rebounded from his previous canceled series, while Stefano had scripted Hitchcock's Psycho and was eager to expand his creative horizons.With an executive order for scary monsters and cold war thrills, their fruitful symbiosis was preceded by the superb Stevens-directed pilot "Please Stand By," named after the series' once-proposed title and changed to "The Galaxy Being" for its broadcast premiere.
Cliff Robertson launched an impressive succession of guest stars, and on meager, oft-exceeded budgets of $120,000 per episode, The Outer Limits became a showcase for shoestring ingenuity. The "blue ribbon crew" (as Stevens called it) included cinematographer Conrad Hall, whose Oscar®-winning skills were honed on the series' cramped TV-studio sets. Packed onto four double-sided DVDs, these 32 episodes (out of a total 49) comprise the series' dynamic first season of moody, frequently paranoid black-and-white adventures.
Repeat performers Martin Landau, Robert Culp, and Sally Kellerman excel (respectively) in the fan-favorite episodes "The Man Who Was Never Born," "The Architects of Fear," and "The Bellero Shield" (and who can forget the insect-like menace of "The Zanti Misfits"?). There are a few clunkers, of course, but the series' quality (and parade of monsters) is remarkably consistent, and DVD compression does not compromise its technical achievement. These eerily seductive shows invite repeated viewing, supporting Stephen King's oft-quoted remark that The Outer Limits was "the best program of its type ever to run on network TV."

Character to watch: Pick a unique character from each show.
Journal your answers to the following questions after you watch the series.
How does this particular character's journey compare with yours?
Did the character develop certain characteristics during the movie that you have or that you would like to have? If so, what are those characteristics?
What obstacles did this character face? What was his or her biggest challenge?
What would you have done differently if you had been in the same position as the character?
Is this character the type of person you would be friends with? Why or why not?