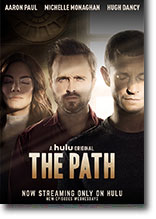 Eddie Lane (Aaron Paul) lives in Upstate New York with his wife Sarah (Michelle Monaghan) and their two children, Hawk (Kyle Allen) and Summer (Aimee Laurence). They are all members of the Meyerist Movement, a new age spiritualist movement. Eddie returns from Peru, where he had undergone a spiritual retreat designed to advance him further up Meyerism's spiritual ladder.
Unbeknownst to his family, while in Peru, Eddie experienced a revelation which causes him to question his faith in Meyerism. Meanwhile, Cal Roberts (Hugh Dancy), a friend of Sarah's and one of Meyerism's top leaders, is looking to expand their influence and deal with the imminent death of their founder, Doctor Steven Meyer (Keir Dullea).
The Path features Paul prominently with a solid performance mirrored by a collection of other convincing actors. The charismatic Dancy is a frightful and deeply troubled antagonist who is intent on rising to an even higher position of power within the "it's not a cult" cult of Meyerism.
Monaghan as Sarah Lane is a high-ranking Meyerist who's caught between Eddie and Cal's discord, and who is the living embodiment of a yoga mom far too certain of her spiritual correctness. There's definitely a love triangle, but that's just one of many subplots churning away in the background as the drama unfolds around Meyerism's founders, top figures, and the starry-eyed followers propping it all up.
The script is tight and the story believable, especially if you've had personal exposure to lesser religions deemed by everyone else as cults. Most cults in the United States are relatively unknown, with the obvious exception of a few. The setup of the fictional cult Meyerism in The Path is done well: so many aspects mimic the doctrines, practices, authoritarian leadership, and followers of real cults past and present. It's truly sad when you realize good intentions among followers (or their simple quest to escape pain), many of whom joined due to personal tragedies. The Path seems a little contrived at times, but the screenwriters get so much right that the flaws can be overlooked.

Character to watch: Aaron Paul as Eddie Lane.
Journal your answers to the following questions after you watch the series.
How does this particular character's journey compare with yours?
Did the character develop certain characteristics during the movie that you have or that you would like to have? If so, what are those characteristics?
What obstacles did this character face? What was his or her biggest challenge?
What would you have done differently if you had been in the same position as the character?
Is this character the type of person you would be friends with? Why or why not?