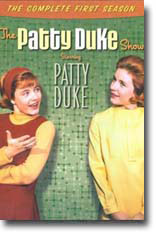 As The Patty Duke Show demonstrates, from its very first episode in 1963, there's no teenager, then or now, who more personified early-'60s American Teen than Patty Duke. And the hit sitcom is still as funny and endearing as ever–and lots of fun to watch as a whole season.
Plus there's something else that can be appreciated a few decades after the fact: as the double star of The Patty Duke Show, playing trendy wisenheimer American Patty Lane, and her "identical cousin," the cultivated Cathy, who grew up in Scotland, Duke pulled double acting duty throughout the show, and her performances as each teen are enthusiastic and impressive.
Duke's smiling, open persona, and her ease with her costars, is one reason for the show's appeal. When playing Patty, she's given the '60s standard-issue role of Young Alien in a Teenage Human Body–speaking an unfamiliar language (Patty: "Would you swing an X here?" Dad: "I assume in some unknown language that means you want my signature") and following peculiar tribal customs (Younger brother Ross: "So what happens at a slumber party, anyway?" Mom: ""Everything but slumbering!"). Yet Patty is lovable, and the audience is always rooting for her, even though it's always hoped that Cathy, the cultured, well-behaved cousin, will "rub off" on Patty.
Duke was already a Broadway veteran and an Oscar® winner for The Miracle Worker when she starred in the show at age 16. As the fantastic documentary included here informs, the show's producers chose to shoot in New York, whose child-labor laws were more lax than California's, so that young Duke could work 12 hours on set instead of 5. And the doc shows just how much acting Duke really had to do.
As the present-day Duke recalls, "They had to bring in 'real' teenagers to teach me how to do the dances, the latest craze," she says. "I was too busy working to know about any of that stuff." Also standouts are the veteran character actor William Schallert, who played Patty's bemused dad, and Paul O'Keefe as the bespectacled pesky younger brother, Ross.
The show was the brainchild of TV powerhouse Sidney Sheldon, who went on to create I Dream of Jeannie and Hart to Hart. Sheldon wrote nearly every episode in the first season himself, honing his craft in the still relatively new TV format of sitcom. This boxed set is a treasure trove for any fans of '60s TV, or of Patty Duke–and that should include pretty much everyone.

Character to watch: Patty Dike as Patty Lane.
Journal your answers to the following questions after you watch the series.
How does this particular character's journey compare with yours?
Did the character develop certain characteristics during the movie that you have or that you would like to have? If so, what are those characteristics?
What obstacles did this character face? What was his or her biggest challenge?
What would you have done differently if you had been in the same position as the character?
Is this character the type of person you would be friends with? Why or why not?