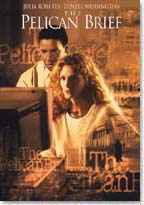 After two Supreme Court justices are assassinated by a professional assassin (Stanley Tucci), law student Darby Shaw (Julia Roberts) suspects the real motive might be greed, not politics. Based on this belief, she writes a legal brief and shows it to her law professor and lover Thomas Callahan (Sam Shepard). He passes a copy of the brief onto his friend, FBI agent Gavin Verheek (John Heard).
When Callahan is killed by a car bomb, Darby realizes she is under surveillance. After she is attacked by an unknown assailant, she knows that her brief was accurate, so she goes into hiding and reaches out to Verheek. When this fails, Darby contacts political reporter Gray Grantham (Denzel Washington). They meet in New York City and she gives him the details of her brief.
This is a movie full of intrigue and suspense. Washington turns in one of his best performances as Gray Grantham. Roberts is equally as exciting as Darby Shaw a Tulane law student. Together they work to expose a criminal conspiracy that involves many high officials that include the White House. When attempts are made on their lives, it becomes a race to see if they can solve the case before they forfeit their lives in pursuit of justice.
The story unfolds in a manner that holds the audience's attention, with only small bits coming out at a time; we don't find out what was in the Pelican Brief until well into the film, and even after we realize what's going on, the suspense continues unabated until the very end.
Director: Alan J. Pakula
Year of Release: 1993

Character to watch: Julia Roberts as Darby Shaw.
Journal your answers to the following questions after you watch the movie.
How does this particular character's journey compare with yours?
Did the character develop certain characteristics during the movie that you have or that you would like to have? If so, what are those characteristics?
What obstacles did this character face? What was his or her biggest challenge?
What would you have done differently if you had been in the same position as the character?
Is this character the type of person you would be friends with? Why or why not?