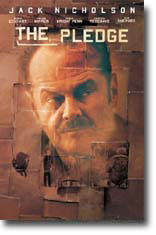 Jack Nicholson is detective Jerry Black, a respected and well-liked veteran of the Reno police force retiring to a life of angling with more than a little apprehension. Thus he jumps into a murder case, the slaying of a little girl, a mere six hours from retirement and makes a promise to the grieving mother to catch the killer.
As his partner (an effectively abrasive Aaron Eckhart) squeezes a confession out of the severely mentally handicapped suspect (a thoroughly unsettling performance by Benicio Del Toro), Jerry is convinced that they've got the wrong man. As in Sean Penn's previous work, this is an actors' piece.
Nicholson plays Jerry with restlessness under his easy-going, smiling calm; his patient fisherman's heart leaps at every nibble while he casts for a murder suspect. And Del Toro, Helen Mirren, Vanessa Redgrave, and Mickey Rourke make striking impressions in their single-scene appearances.
Director Penn is less concerned with the mystery than the emotional turmoil and Jerry's state of mind, interrupting moments of calm with jagged cuts and discomforting images (including some especially disturbing crime scene photos).
Jerry's instincts and methods are sound and his sensitivity is real–he takes in a battered single mom (Robin Wright Penn) and her little girl, and develops a rewarding family life–but his passion for justice turns to unhealthy, destructive obsession. That's ultimately what we're left with at the conclusion of this often off-putting but ultimately fascinating film. The truth will not always set you free.
Director: Sean Penn
Year of Release: 2001

Character to watch: Jack Nicholson as Jerry Black.
Journal your answers to the following questions after you watch the movie.
How does this particular character's journey compare with yours?
Did the character develop certain characteristics during the movie that you have or that you would like to have? If so, what are those characteristics?
What obstacles did this character face? What was his or her biggest challenge?
What would you have done differently if you had been in the same position as the character?
Is this character the type of person you would be friends with? Why or why not?