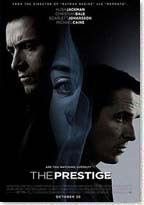 Magician Alfred Borden (Christian Bale) is sentenced for the murder of rival Robert Angier (Hugh Jackman). Both were assistants for Milton the Magician (Ricky Jay) with ingénieur John Cutter (Michael Caine). Angier's wife Julia (Piper Perabo) drowned performing a water cell act and Angier blames Borden, who professes not to remember if he had tied her with an inappropriate knot. The two become bitter competitors, disrupting each other's acts.
Borden becomes "The Professor" with the enigmatic Bernard Fallon as his ingénieur. Angier becomes "The Great Danton" with the lovely Olivia Wenscombe (Scarlett Johansson) and Cutter assisting. The magic trick from the beginning of the movie is explained: the original bird is crushed and replaced with a double.
Angier is incensed when Borden meets and marries Sarah (Rebecca Hall) and they have a daughter, Jess (Samantha Mahurin). Angier sabotages Borden's bullet catch, costing Borden two fingers.
Borden then ruins Angier's victimless bird cage act, maiming an audience member, killing the dove, and damaging Angier's reputation. Borden soon begins performing an impressive trick called The Transported Man, where he enters one cabinet and exits another across the stage a moment later.
Angier and Cutter argue over how it is done, with Cutter insisting that Borden is using a double, an answer Angier refuses to accept. Angier begins performing his own version of the trick using a lookalike named Root (also Jackman).
The act is a hit, but requires Angier to end up below the stage while Root receives the adoration of the crowd. Angier sends Olivia to discover Borden's secret, but she has grown tired of his obsession and betrays him to Borden, with whom she soon begins an affair. Olivia delivers an encoded diary of Borden's to Angier which supposedly contains the secret to his trick. Angier and Cutter kidnap Fallon to force Borden to give them the key to the cypher.
Upon learning that the key word is "Tesla", Angier travels to Colorado Springs to meet with Nikola Tesla (David Bowie) and enlists the inventor to make a teleportation machine for him. Meanwhile, Borden's marriage has begun to fray due to his obsession with magic and Angier.
Director: Christopher Nolan
Year of Release: 2006

Character to watch: Christian Bale as Alfred Borden.
Journal your answers to the following questions after you watch the movie.
How does this particular character's journey compare with yours?
Did the character develop certain characteristics during the movie that you have or that you would like to have? If so, what are those characteristics?
What obstacles did this character face? What was his or her biggest challenge?
What would you have done differently if you had been in the same position as the character?
Is this character the type of person you would be friends with? Why or why not?