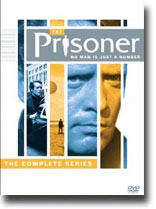 Since its CBS debut in the summer of 1968, the masterful British TV series THE PRISONER has captivated American audiences. Now A&E presents a definitive collector's edition of the cult classic which is considered one of the most innovative TV series ever filmed.
After resigning from a top-secret position, a man (McGoohan) is abducted and spirited from his London home to a mysterious place known only as 'The Village.' Village Residents, known only by numbers, are held captive because each possesses valuable knowledge. The Prisoner, now known as Number Six, battles to protect his mind — and his humanity — while struggling to discover the identity of Number One and escape captivity.If a top-level spy decided he didn't want to be a spy anymore, could he just walk into HQ and hand in his resignation? With all that classified knowledge in his head, would he be allowed to become a civilian again, free to go about his life? The answer, according to the stylish, brilliantly conceived 1960s British TV series The Prisoner, is a resounding no.
In fact, instead of receiving a gold watch for his years of faithful service, our hero (played by Patrick McGoohan) is followed home to his London flat and knocked unconscious. When he awakens, he finds himself in a picturesque village where everyone is known by a number. Where is it? Why was he brought here? And, most important, how does he leave?
As we learn in Episode 1, Number 6 can't leave. The Village's "citizens" might dress colorfully and stroll around its manicured gardens while a band plays bouncy Strauss marches, but the place is actually a prison. Surveillance is near total, and if all else fails, there's always the large, mysterious white ball that subdues potential escapees by temporarily smothering them.
Who runs the Village? An ever-changing Number 2, who wants to know why Number 6 resigned. If he'd only cooperate, he's told, life can be made very pleasant. "I've resigned," he fumes. "I will not be pushed, filed, stamped, indexed, briefed, debriefed, or numbered. My life is my own." So sets the stage for the ultimate battle of wills: Number 6's struggle to retain his privacy, sanity, and individuality against the array of psychological and physical methods the Village uses to break him.
So does he ever escape? And does he ever find out who Number 1 is? "Questions are a burden to others," the Village saying goes. "Answers, a prison for oneself." Within this complete 17-episode set, all is revealed.
The 2009 Collector's Edition has the same video content as the 2006 40th Anniversary Edition, but does not include the booklet or paper map. The principal other difference is that the 10 discs are packaged in five Thinpaks instead of 10. For an improved video transfer and new supplemental features, try the 2009 Blu-ray release.

Character to watch:  Patrick McGoohan as Number Six.
Journal your answers to the following questions after you watch the series.
How does this particular character's journey compare with yours?
Did the character develop certain characteristics during the movie that you have or that you would like to have? If so, what are those characteristics?
What obstacles did this character face? What was his or her biggest challenge?
What would you have done differently if you had been in the same position as the character?
Is this character the type of person you would be friends with? Why or why not?