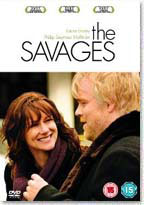 After drifting apart emotionally over the years, two single siblings, Wendy (Laura Linney) and Jon (Phillip Seymour Hoffman), band together to care for their estranged, elderly father, Lenny (Philip Bosco), who is rapidly slipping into dementia.
Wendy and Jon first travel to Sun City, Arizona, to attend the funeral of their father's girlfriend of 20 years. When they arrive, they are told that their father signed a non-marriage agreement and will not have rights to any of her property.
They then move him to a nursing home in Buffalo, New York, where Jon is a theater professor working on a book about Bertolt Brecht. Wendy, who is an aspiring, but unsuccessful, playwright, moves from New York City to help establish their father in Buffalo. Neither is close with Lenny, who is said to have been a difficult man to live with, implying that he was a physically and emotionally abusive father.
Their dysfunctional family life appears to have left Wendy and Jon emotionally crippled and unable to sustain a relationship. She is sleeping with an unattainable married man 13 years her senior and he cannot commit to a Polish woman who must return to Kraków after her visa expires.
Hoffman and Laura Linney are also excellent as brother and sister who have their own struggles with facing reality and dealing with an imperfect father. They have their own flawed and difficult lives and then, suddenly, they have total responsibility for their father, who is left without the girlfriend or backup support that the siblings thought was there.
The siblings have never been particularly close, but they are reluctantly thrown together when their elderly father, Leonard Savage, is ejected from the Sun City, Arizona retirement home where he sponged off his girlfriend for years. Leonard is becoming forgetful and agitated, and the two younger Savages must decide what to do for a father who abused and neglected them.
Jon dutifully arranges for Leonard to be placed in a decent enough facility in Buffalo, but Wendy is so upset by her father's decline that she unfairly lashes out at her brother. As the weeks pass, the two try to put their rancor aside and begin to empathize with one another. They also start to realize that there is a statute of limitations on blaming your parents for everything that is wrong with your life.
Director: Tamara Jenkins
Year of Release: 2007

Character to watch: Laura Linney as Wendy Savage.
Journal your answers to the following questions after you watch the movie.
How does this particular character's journey compare with yours?
Did the character develop certain characteristics during the movie that you have or that you would like to have? If so, what are those characteristics?
What obstacles did this character face? What was his or her biggest challenge?
What would you have done differently if you had been in the same position as the character?
Is this character the type of person you would be friends with? Why or why not?