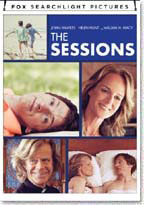 A man in an iron lung who wishes to lose his virginity contacts a professional sex surrogate with the help of his therapist and priest. Mark O'Brien (John Hawkes) is a poet who is forced to live in an iron lung due to complications from polio. Due to his condition, he has never had sex. After unsuccessfully proposing to his caretaker Amanda (Annika Marks), and sensing he may be near death, he decides he wants to lose his virginity.
After consulting his priest, Father Brendan (William H. Macy), he gets in touch with Cheryl Cohen-Greene (Helen Hunt), a professional sex surrogate. She tells him they will have no more than six sessions together. They begin their sessions, but soon it is clear that they are developing romantic feelings for each other.
Cheryl's husband (Adam Arkin), who loves her deeply, fights to suppress his jealousy, at first withholding a love poem that Mark has sent by mail to Cheryl, which she eventually finds.
It almost seems like a miracle when a director manages to make a dynamic movie about a character with limited mobility. Australian filmmaker and fellow polio survivor Ben Lewin recounts his alternately sad and funny attempts to lose his virginity.
By 1988, the 36-year-old Berkeley writer had forged friendships with women, but romantic relationships eluded him. In discussing the matter with his therapist, she suggests Cheryl Cohen Greene (Helen Hunt), a wife, mother, and sexual surrogate. It's a viable solution, but as a devout Catholic, Mark is uncomfortable with the idea of extramarital relations, so he shares his concerns with an open-minded priest (Macy).
With an absence of pity and an abundance of wit, Lewin documents Mark's journey though this physical, emotional, and spiritual minefield, which takes a toll on Cheryl as well, since her husband (Adam Arkin) resents the closeness she develops with her client (though plausible, this subplot feels forced). If Hunt received a well-deserved Oscar nomination for her performance, which involves a fair amount of nudity, the Academy failed to recognize Hawkes, a regrettable omission as this fine actor succeeds in creating a fully rounded human being whose desire for affection feels as universal as it does specific.
Director: Ben Lewin
Year of Release: 2012

Character to watch: Helen Hunt as Cheryl Cohen-Greene.
Journal your answers to the following questions after you watch the movie.
How does this particular character's journey compare with yours?
Did the character develop certain characteristics during the movie that you have or that you would like to have? If so, what are those characteristics?
What obstacles did this character face? What was his or her biggest challenge?
What would you have done differently if you had been in the same position as the character?
Is this character the type of person you would be friends with? Why or why not?