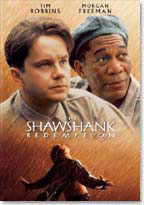 In 1947, banker Andy Dufresne (Tim Robbins) is convicted of a double murder for murdering his wife and her lover  and is sentenced to two consecutive life sentences at Shawshank State Penitentiary. Andy quickly becomes friends with fellow inmate Ellis "Red" Redding (Morgan Freeman). Red procures things for inmates and he gets a rock hammer for Andy, with which he creates stone chess pieces. Red also gets him a large posters of Rita Hayworth, Marilyn Monroe, and Raquel Welch.
Andy uses his banking skills to win favor with Warden Norton (Bob Gunton) and the guards. He does the tax returns for all of the guards and does the books for Norton's illegal business schemes. In exchange, Andy is allowed to improve the prison library and bring in books and music for the inmates.
In 1965, Tommy Williams (Gil Bellows) is incarcerated at Shawshank for burglary. Andy helps him pass his General Educational Development (GED) exam. After hearing the details of Andy's case, Tommy recalls how an inmate at another prison claimed responsibility for an identical murder, supporting Andy's innocence. Andy then approaches Norton with this information, but the warden refuses to listen and instead throws him into solitary confinement.
Robbins has built this character in a way that we the performance is not showy, but subtle. The result is that we want to know more and when we do begin to understand his ways, that only makes us want him to succeed that much more
Every so often, a certain type of movie comes along that deeply moves anyone who watches it. This movie is grand in scope and scale, its character portrayals so moving and so real, that you cannot help becoming completely engrossed by it. I believe that the Shawshank Redemption is one of these movies.

Director: Frank Darabont
Year of Release: 1994

Character to watch: Tim Robbins as Andy Dufresne.
Journal your answers to the following questions after you watch the movie.
How does this particular character's journey compare with yours?
Did the character develop certain characteristics during the movie that you have or that you would like to have? If so, what are those characteristics?
What obstacles did this character face? What was his or her biggest challenge?
What would you have done differently if you had been in the same position as the character?
Is this character the type of person you would be friends with? Why or why not?