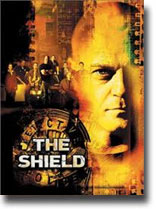 All seven seasons of the Emmy®-winning, groundbreaking series in a collectible 34-page bound anthology book filled with photos, quotes and a special letter from creator Shawn Ryan! Loaded with DVD extras including new featurettes, this set includes all 88 arresting episodes and an amazing ensemble cast featuring Emmy winner Michael Chiklis.
Excellent acting, story lines and only a few edit errors, and it will have you wondering exactly where the line is in terms of police ethics, where it should be, or maybe even whether it should even exist. This series points out the fact that law enforcement is seldom a bright line occupation, and it points out where and when such issues often arise. But when it came to Season 7, suddenly no subtitles. Season 7 also appears to be inferior in terms of video quality, and has none of the prior show highlights which help jog the memory if you come back to the show after not having watched for a while.Vic Mackey (Michael Chiklis) is the leader of the Strike Team in fabled LA neighborhood, Farmington. He leads a Strike Team that includes Shane Vendrell (Walton Goggins, in what I would call the best performance in TV or film that I have every seen), Curtis "Lem" Lemansky (Kenneth Johnson), and Ronnie Gardocki (David Rees Snell), who often do not play by the rules, and break the law to preserve the law, throughout the show's 7 seasons.
They are opposed by the precinct's other cops, including Captain (and later, City Councilman) David Aceveda (Benito Martinez). The show also includes sidestories featuring others, such as police officers Dani (Catherine Dent) and Julien (Michael Jace), and the detective duo, Dutch (Jay Karnes) and Claudette (CCH Pounder, another performance that never got any award season love). Others came and went, such as guest season stars in Glenn Close (who did win herself an award for this), Forrest Whitaker, and Anthony Anderson (taking a turn from the comedy to play an excellent villain to the Strike Team).

Character to watch: Michael Chiklis as Detective Vic Mackey.
Journal your answers to the following questions after you watch the series.
How does this particular character's journey compare with yours?
Did the character develop certain characteristics during the movie that you have or that you would like to have? If so, what are those characteristics?
What obstacles did this character face? What was his or her biggest challenge?
What would you have done differently if you had been in the same position as the character?
Is this character the type of person you would be friends with? Why or why not?