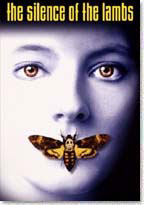 Clarice Starling (Jodie Foster) is pulled from her training at the FBI Academy at Quantico, Virginia, by Jack Crawford (Scott Glenn) of the Bureau's Behavioral Science Unit. He tasks her with interviewing Hannibal Lecter (Hopkins), a former psychiatrist and incarcerated cannibalistic serial killer, believing Lecter's insight might be useful in the pursuit of a serial killer nicknamed "Buffalo Bill" (Levine), who skins his female victims' corpses.
Starling travels to the Baltimore State Hospital for the Criminally Insane, where she is led by Dr. Frederick Chilton (Heald) to Lecter's solitary quarters. Although initially pleasant and courteous, Lecter grows impatient with Starling's attempts at "dissecting" him and rebuffs her. As she is leaving, one of the prisoners flicks semen at her. Lecter, who considers the discourtesy "unspeakably ugly", calls Starling back and tells her to seek out an old patient of his.
This leads her to a storage shed where she discovers a man's severed head. She returns to Lecter, who tells her that the man is linked to Buffalo Bill. He offers to profile Buffalo Bill on the condition that he be transferred away from Chilton, whom he detests.
When Buffalo Bill kidnaps a U.S. Senator's daughter, Catherine Martin, Crawford authorizes Starling to offer Lecter a fake deal promising a prison transfer if he provides information that helps find Buffalo Bill and rescue the abductee.
Instead, Lecter begins a game of quid pro quo with Starling, offering comprehensive clues and insights about Buffalo Bill if Starling will give him information about her own past, something she was advised not to do.
What's most amazing about the film, however, isn't the imagery or the performances or the attention to detail and accuracy. Most amazing is how, after ten years, an ill-advised sequel and countless imitators, The Silence of the Lambs still has the power, both on cerebral and visceral levels, to shock, disturb and terrify.
Director: Jonathan Demme
Year of Release: 1991

Character to watch: Jodie Foster as Clarice Starling.
Journal your answers to the following questions after you watch the movie.
How does this particular character's journey compare with yours?
Did the character develop certain characteristics during the movie that you have or that you would like to have? If so, what are those characteristics?
What obstacles did this character face? What was his or her biggest challenge?
What would you have done differently if you had been in the same position as the character?
Is this character the type of person you would be friends with? Why or why not?