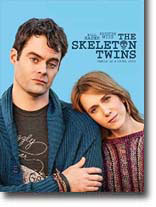 After many years of estrangement, twins Maggie (Kristen Wiig) and Milo (Bill Hader) lead separate lives on opposite sides of the country. When both feel that they're at the end of their ropes, an unexpected reunion forces them to confront how their lives went so wrong.
For Maggie, that means re-examining her marriage to sweet "nature frat boy" Lance (Luke Wilson) and her own self destructive tendencies, while Milo must face the pain of an early heartbreak he never quite got past. As the twins' reunion reinvigorates them both, they realize the key to fixing their lives just may lie in accepting the past and mending their relationship with each other.
The rapport between Hader and Wiig is obvious from their first moment together in The Skeleton Twins, and why shouldn't it be? Beyond their shared SNL history the two have delivered fantastic performances together in the past. That instant chemistry is what is to be expected, but what will come as a shock to many is that it isn't solely from a comedic standpoint, but that they connect in a film heavy with issues of suicide, abuse, and infidelity.
Wiig has ventured into dramedy territory before, but right from the start it's clear The Skeleton Twins is something new for both co-stars. The film begins with both estranged siblings considering suicide. He's a failed actor living in Los Angeles and dealing with a failed relationship to another man.
Maggie's in New York where she leads a life of dull normalcy, working as a dental assistant and married to the overly-eager Lance, described later as a "big Labrador retriever". It's a phone call that Milo is in the hospital that stops Maggie from doing herself in, and flying off to LA to check in on him the two speak for the first time in a decade.
Director: Craig Johnson
Year of Release: 2014

Character to watch: Kristen Wiig as Maggie.
Journal your answers to the following questions after you watch the movie.
How does this particular character's journey compare with yours?
Did the character develop certain characteristics during the movie that you have or that you would like to have? If so, what are those characteristics?
What obstacles did this character face? What was his or her biggest challenge?
What would you have done differently if you had been in the same position as the character?
Is this character the type of person you would be friends with? Why or why not?