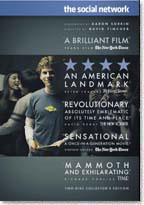 In 2003, Harvard University student Mark Zuckerberg (Jesse Eisenberg) is rejected by his girlfriend Erica Albright (Rooney Mara). He then returns to his dorm drunk and writes a negative blog entry about her. This inspires him to create an on-campus website called Facemash. which allows users to rate the attractiveness of female students using photographs pilfered from various university systems.
Mark receives six months of academic probation after traffic to the site crashes parts of Harvard's network. Facemash's popularity and the fact that Mark created it in one night while drunk brings him to the attention of Cameron and Tyler Winklevoss (both portrayed by Armie Hammer) and their business partner Divya Narendra (Max Minghella). The Winklevoss twins invite Mark to their final club, where Mark accepts a job as programmer for a proposed dating website they call Harvard Connection which will be exclusive to Harvard alumni.
The first thing to say is that this is not a film about Facebook, yes its based around its creators Mark Zuckerberg and Eduardo Saverin, but what it really is about is how their invention came between their friendship. The way the film is set up works really well as far as story telling goes, Mark Zuckerberg played by the brilliant Jesse Eisenberg is involved in 2 cases at once, one involving co creator Eduardo Saverin played by Andrew Garfield and the other case involves Cameron Winklevoss and Tyler Winklevoss who claim they asked Zuckerberg to design a social networking site for Harvard and claim that Zuckerberg took their idea. Eduard Saverin is also involved in that case.
It says a lot for a movie that features a lot of dialogue that The Social Network never becomes confusing, boring or hard to follow. This is helped brilliantly by Trent Reznor and Atticus Ross amazing score for the film. Director David Fincher(seven, fight club, zodiac) really brings out the best in all the scenes and to listen to his commentary on the film is amazing.
Director: David Fincher
Year of Release: 2010

Character to watch: Jesse Eisenberg as Mark Zuckerberg.
Journal your answers to the following questions after you watch the movie.
How does this particular character's journey compare with yours?
Did the character develop certain characteristics during the movie that you have or that you would like to have? If so, what are those characteristics?
What obstacles did this character face? What was his or her biggest challenge?
What would you have done differently if you had been in the same position as the character?
Is this character the type of person you would be friends with? Why or why not?