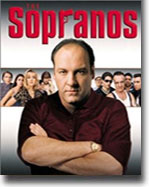 Fans have devotedly watched Tony Soprano deal with the difficulties of balancing his home life with the criminal organization he leads. Audiences everywhere tuned in to see the mob, the food, the family, and who was next to be whacked. Celebrate the show that Vanity Fair called, "the greatest show in TV history", in the ultimate Sopranos keepsake.The Sopranos, writer-producer-director David Chase's extraordinary television series, is nominally an urban gangster drama, but its true impact strikes closer to home: Like 1999's other screen touchstone, American Beauty, the HBO series chronicles a dysfunctional, suburban American family in bold relief. And for protagonist Tony Soprano, there's the added complexity posed by heading twin families, his collegial mob clan and his own, nouveau riche brood.
The series' brilliant first season is built around what Tony learns when, whipsawed between those two worlds, he finds himself plunged into depression and seeks psychotherapy–a gesture at odds with his midlevel capo's machismo, yet instantly recognizable as a modern emotional test.
With analysis built into the very spine of the show's elaborate episodic structure, creator Chase and his formidable corps of directors, writers, and actors weave an unpredictable series of parallel and intersecting plot arcs that twist from tragedy to farce to social realism. While creating for a smaller screen, they enjoy a far larger canvas than a single movie would afford, and the results, like the very best episodic television, attain a richness and scope far closer to a novel than movies normally get.
Unlike Francis Coppola's operatic dramatization of Mario Puzo's Godfather epic, The Sopranos sustains a poignant, even mundane intimacy in its focus on Tony, brought to vivid life by James Gandolfini's mercurial performance.
Alternately seductive, exasperated, fearful, and murderous, Gandolfini is utterly convincing even when executing brutal shifts between domestic comedy and dramatic violence. Both he and the superb team of Italian-American actors recruited as his loyal (and, sometimes, not-so-loyal) henchmen and their various "associates" make this mob as credible as the evocative Bronx and New Jersey locations where the episodes were filmed.
The first season's other life force is Livia Soprano, Tony's monstrous, meddlesome mother. As Livia, the late Nancy Marchand eclipses her long career of patrician performances to create an indelibly earthy, calculating matriarch who shakes up both families; Livia also serves as foil and rival to Tony's loyal, usually level-headed wife, Carmela (Edie Falco).
Lorraine Bracco makes Tony's therapist, Dr. Melfi, a convincing confidante, by turns "professional," perceptive, and sexy; the duo's therapeutic relationship is also depicted with uncommon accuracy. Such grace notes only enrich what's not merely an aesthetic high point for commercial television, but an absorbing film masterwork that deepens with subsequent screenings.

Character to watch: Lorraine Bracco as Dr. Jennifer Melfi.
Journal your answers to the following questions after you watch the series.
How does this particular character's journey compare with yours?
Did the character develop certain characteristics during the movie that you have or that you would like to have? If so, what are those characteristics?
What obstacles did this character face? What was his or her biggest challenge?
What would you have done differently if you had been in the same position as the character?
Is this character the type of person you would be friends with? Why or why not?