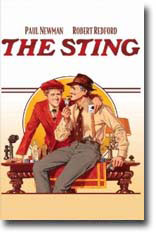 Johnny Hooker (Robert Redford) is a young con-man who is being taught by Luther Coleman (Robert Earl Jones). One day they pull one of their con jobs and net themselves a huge roll. What they don't know is that the man they conned is the courier for a numbers runner.
It turns out that the boss, Doyle Lonigan (Robert Shaw), considers it an attack on him and orders all the people involved terminated. Hooker is shaken down by a crooked cop, William Snyder (Charles Durning), who threatens to turn him over to Lonigan unless he pays him off. Hooker pays him, he then tries to warn Luther but is too late.
Hooker goes to see Henry Gondorf (Paul Newman), a friend of Luther's and a one time great con-man, who has had a bit of bad luck. After hearing what happened to Luther and seeing how hungry Hooker is for payback, he assembles a gang and decides to con Lonigan. While everything seems to be going ok, there is just the problem of the hit on Hooker and Snyder, whom Hooker paid off with counterfeit money.
Hooker and Gondorf find themselves in a high-stakes game against Lonigan, who turns out to be the master of all cheating mobsters. Together, Hooker and Gondorf set out to avenge the murder of their mutual friend and partner.
Using a bogus bookie joint as a front for their con of all cons, the two feel the heat from the Chicago Mob on one side and encroaching police on the other. But in a plot that contains more twists than a treacherous mountain road, the ultimate scam is pulled off with consummate style and panache.
The acting is wonderful, the surprises are unpredictable, and overall, this is one of the most original movies. There can be no duplicates. Every time I watch this movie, some how I notice about five things I've never seen before, like it changes every time. This is easily one of my favorite movies in history. My favorite scene is with the card playing on the train.
Director:  George Roy Hill
Year of Release: 1973

Character to watch: Paul Newman as Henry Gondorff.
Journal your answers to the following questions after you watch the movie.
How does this particular character's journey compare with yours?
Did the character develop certain characteristics during the movie that you have or that you would like to have? If so, what are those characteristics?
What obstacles did this character face? What was his or her biggest challenge?
What would you have done differently if you had been in the same position as the character?
Is this character the type of person you would be friends with? Why or why not?