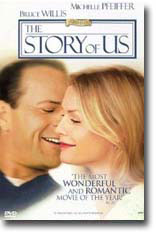 The Story of Us is about a relationship possibly coming to an end. Ben Jordan (Bruce Willis) is a comedy writer who chafes at what he sees as his wife's lack of spontaneity. Katie Jordan (Michelle Pfeiffer), who creates crossword puzzles, stews over what she sees as her husband's irresponsibility.
The arc of their separation is interspliced with glimpses and scenes from their marriage, which is a combination of high points (the proposal, the births of their two children), low points (screaming fights), and the in-between (sessions with marriage counselors, moments in bed staring at the TV).
The passage of time is marked by Ben and Katie's various hairstyles. The sheer power of the themes, such as the inevitability of conflict in a relationship, the necessity and difficulty of growth, give the movie a degree of emotional force, and there's no doubt that everyone who's gone through a difficult period in their marriage (which is just about every married couple) will find something to connect with.
In one poignant sequence Ben and Katie go to Venice to rekindle their old spark and find themselves hounded by another couple, the Kirbys from Cleveland, who are loud, crass, boring, and oblivious. Nonetheless, the Kirbys have a buoyancy and spontaneity that the glossy and elegant Jordans never quite manage. Perhaps this is part of the reason why their marriage is coming undone.
There's an underlying sadness that permeates this story of a marriage in trouble after fifteen years and two children that is so readily and immediately discernible that initially it becomes difficult to proceed. And you quickly realize that it's because "The Story of Us," directed by Rob Reiner, is indeed a story about loss, which is something that affects everyone in some way or another, at one time or another, and depending upon your personal frame of reference and experience, it's a story that is going to affect you on any number of levels.
Because loss comes in many forms; sometimes it leaves nothing more than a blip on the surface of your Moon, while at other times it leaves a gaping crater on the landscape of your World, and whichever it is in your case, this film is going to address it and perhaps make you revisit a time or place that maybe you've locked away in the dim recesses of your memory for better or worse.
Director:  Rob Reiner
Year of Release: 1999

Character to watch: Michelle Pfeiffer as Katie Jordan.
Journal your answers to the following questions after you watch the movie.
How does this particular character's journey compare with yours?
Did the character develop certain characteristics during the movie that you have or that you would like to have? If so, what are those characteristics?
What obstacles did this character face? What was his or her biggest challenge?
What would you have done differently if you had been in the same position as the character?
Is this character the type of person you would be friends with? Why or why not?