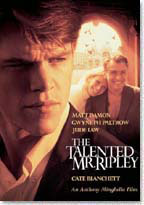 Tom Ripley (Matt Damon) is a young man trying to make a living in 1950s New York City using his only talents; forgery, lying, and impersonation. While working at a party, he is approached by the wealthy shipbuilder Herbert Greenleaf (James Rebhorn), who believes Ripley went to Princeton with his son, Dickie (Jude Law). Greenleaf recruits Ripley to travel to Italy to persuade Dickie to return home to the United States, for which he will pay Ripley $1,000. Ripley accepts the proposal, even though he never met Dickie nor even went to Princeton.
Shortly after his arrival in Italy, Ripley contrives an accidental meeting on the beach with Dickie and his girlfriend, Marge Sherwood (Gwyneth Paltrow), and quickly insinuates himself into their lives. On one of their outings together, Dickie and Ripley meet Dickie's friend Freddie Miles (Philip Seymour Hoffman), who treats Ripley with obvious contempt.
Things begin to change after a local girl, whom Dickie had got pregnant, kills herself when he refuses to help her financially. Soon afterward, Dickie begins to tire of Tom, resenting his constant presence and dependence, especially after figuring out that Ripley has been lying about their days together at Princeton. Ripley's own feelings are fueled by his desire to maintain the opulent lifestyle Dickie has afforded him, and by his growing sexual obsession with his new friend.
When picking out films to see, I usually gravitate toward the "small" independent type of film usually avoiding the larger "major" productions. Thus, I avoided "the Talented Mr. Ripley" up until recently. My mistake! "The Talented Mr. Ripley" is outstanding and has, to me, everything a movie should have to make it the "complete film experience"-great script and direction, great acting, wonderful sound tract and beautiful cinematography. This film has it all!
The acting, by all of the actors, is superb. Matt Damon, as Tom Ripley is outstanding. He portrays a very complicated character believably. At no time are you aware that he is acting. This character does things that are, indeed, despicable; however, due to the acting skills of Damon, I actually liked the guy and felt deep sympathy and empathy for him and for his desire to be someone else.
Director: Anthony Minghella
Year of Release: 1999

Character to watch: Matt Damon as Tom Ripley.
Journal your answers to the following questions after you watch the movie.
How does this particular character's journey compare with yours?
Did the character develop certain characteristics during the movie that you have or that you would like to have? If so, what are those characteristics?
What obstacles did this character face? What was his or her biggest challenge?
What would you have done differently if you had been in the same position as the character?
Is this character the type of person you would be friends with? Why or why not?