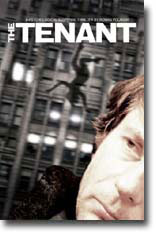 The basic story  is about a socially awkward clerk (Roman Polanski) moves in to an apartment previously occupied by a young woman who just died from injuries sustained by hurtling herself from that very apartment window. What he doesn't realize is that, by his moving in, the stage has been set for him to inherit the very miserable despair that possessed the former tenant.
In the course of his solitary tenency, he hears disturbing sounds, sees strange things inside and outside his flat, and encounters inexplicable hostility from others in the building. Over time, he becomes increasingly unnerved and obsessed, incapable of controlling his own behavior, and the line between reality and delusion ultimately dissolves, giving way to psychosis.
This dark ride is not without Polanski's trademark warped, absurdist humor, and one gets a sense from sharing the deteriorating experience of his self-portrayed protagonist that he himself was trying to find a way to laugh at his own miseries and fears.
This could be a therapeutic element of this film; by watching the ridiculously hopeless and wretched scenario unfold, hopefully we can laugh at our own vulnerabilities, while at the same time seeing that element in other peoples' callous behavior that drives others into such a state.
With Polanski's new found recognition in a film industry that cautiously turned its back on him nearly 30 years ago, we are finally given a chance to see this forgotten treasure, and it's about time. I've read many comparisons to Taxi Driver, but the subtle supernatural implications found in The Tenant's more surreal moments remind me more of The Shining, wherein an alienated individual renders himself prone to dark, irrational powers by way of his own obsession.
A quiet, well-paced primal scream of a movie, this number will definitely give the viewer a twisted chuckle, and more than a few shivers after it ends. A no-holds barred, lights out masterpiece.
Director:  Roman Polanski
Year of Release: 1976

Character to watch: Roman Polanski as Trelkovsky.
Journal your answers to the following questions after you watch the movie.
How does this particular character's journey compare with yours?
Did the character develop certain characteristics during the movie that you have or that you would like to have? If so, what are those characteristics?
What obstacles did this character face? What was his or her biggest challenge?
What would you have done differently if you had been in the same position as the character?
Is this character the type of person you would be friends with? Why or why not?