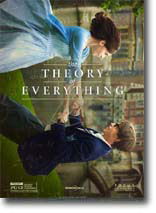 In the 1960s, Cambridge University student and future physicist Stephen Hawking (Eddie Redmayne) falls in love with fellow collegian Jane Wilde (Felicity Jones). At 21, Hawking learns that he has motor neuron disease.
Despite this — and with Jane at his side — he begins an ambitious study of time, of which he has very little left, according to his doctor. He and Jane defy terrible odds and break new ground in the fields of medicine and science, achieving more than either could hope to imagine.
One of the things that catches your attention is how Hawking always manages to crack a smile and never showed a lick of hate. It made me wonder about how we can look to the inside and see what we can do to better ourselves or others that Hawking had done.
There's a moment towards the end where he gives a speech in front of an audience about his new book 'A Brief History Of Time' and life in general. A girl drops her pen while listening to Hawking speak and we then watch him imagining himself getting up to pick the pen up off the floor. He had every intent to want to teach and help those who were eager to learn.
James Marsh went about a visually appealing and telling look through the life of Stephen Hawking with metaphorical references to our existence in the galaxy and space. It was difficult to watch at times as Stephen's condition worsened and the more he lost control of his movement. There was weight to Eddie Redwayne's character that was more then meets the eye. If your going to watch 'The Theory Of Everything' be prepared to see life in whole new way.
Director: James March
Year of Release: 2014

Character to watch: Eddie Redmayne as Stephen Hawking.
Journal your answers to the following questions after you watch the movie.
How does this particular character's journey compare with yours?
Did the character develop certain characteristics during the movie that you have or that you would like to have? If so, what are those characteristics?
What obstacles did this character face? What was his or her biggest challenge?
What would you have done differently if you had been in the same position as the character?
Is this character the type of person you would be friends with? Why or why not?