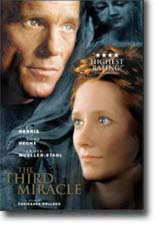 Ed Harris and Anne Heche star in Agnieszka Holland's provocative mystery that explores the spiritual phenomenon behind miracles, and the doubts and desires of a priest who has lost his faith. Father Frank Shore is a church-appointed spiritual detective whose job it is to investigate claims of miracles. An investigation leads him to a woman who challenges his beliefs.
The Vatican sends a priest to verify some miracles, performed by a woman who has been nominated for sainthood. During his investigation, the priest, who is experiencing a crisis of faith, re-discovers his own purpose in life.
Fr. Frank is known as "The Miracle Killer" for his previous work debunking potential sainthood. Thus, the bishop tasks him with scrutinizing the life of one Helen O'Regan, who is, after her death, being proclaimed a saint by the members of a local parish at which she worked.
Ostensible evidence for her special relationship with the Lord is the blood that drips from the eyes of a parish statue of the Virgin Mary during November when it rains. (Helen died in November during a rainstorm.) One miracle has already been reported, the complete cure of a little girl with fatal lupus erythematosis, Maria Witkowski, after she comes into contact with the blood while praying to Helen at the foot of the statue.
This is more a story of Shore's search for renewed faith than that of O'Regan's possible eligibility for sainthood, though the latter serves as the vehicle for the former. Shore is desperate to revitalize his life, and seems ripe to do so with Helen's daughter Roxanne, vivaciously played by Heche. The scene between the two on Helen's grave is positively effervescent.
Director: Agnieszka Holland
Year of Release: 1999

Character to watch: Ed Harris as Father Frank Shore.
Journal your answers to the following questions after you watch the movie.
How does this particular character's journey compare with yours?
Did the character develop certain characteristics during the movie that you have or that you would like to have? If so, what are those characteristics?
What obstacles did this character face? What was his or her biggest challenge?
What would you have done differently if you had been in the same position as the character?
Is this character the type of person you would be friends with? Why or why not?