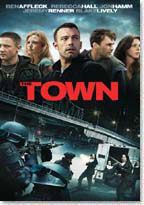 Four lifelong friends from the Boston neighborhood of Charlestown, Doug MacRay (Ben Affleck), James Coughlin (Jeremy Renner), Albert Magloan (Slaine), and Desmond Elden (Owen Burke), are bank robbers. They take the manager, Claire Keesey (Rebecca Hall), hostage but release her without harm. Doug follows Claire to prevent James from eliminating her as a witness, and a romance grows between them which he hides from the gang.
As they grow closer, Doug tells Claire of his search for his long-lost mother, and how he imagined she went to live with his aunt in Florida. He also blew a chance to be a professional hockey player for a life of crime. She tells Doug she saw a tattoo on one of the robbers, and he realizes she can identify James and send them all to jail.
He knows that James will kill her if he realizes the truth, and he persuades her that the authorities cannot protect her either so she decides not to tell the police. But Doug is increasingly disenchanted with his criminal lifestyle and the lies he has to tell.
FBI Special Agent Adam Frawley (Jon Hamm) surveils the gang and recognizes their ties to local crime lord Fergus Colm (Pete Postlethwaite), who has another robbery planned for them. During a visit to his father Stephen (Chris Cooper) in prison, Doug reveals his plans to leave Charlestown and go to Florida. Stephen ends the visit by telling his son, "I'll see you again, this side or the other." The gang's next robbery in the North End of Boston goes awry, and the gang barely escapes.
Frawley interrogates the gang, but fails to get any confessions and is forced to release them. Doug asks Claire if she will go away with him, and she agrees. Grasping at straws, Frawley wiretaps Claire's phone when he learns she quit her job and threatens to prosecute her as an accomplice after he realizes she is seeing Doug. Shocked to discover her lover was one of her assailants, she decides to help Frawley.
Director: Ben Affleck
Year of Release: 2010

Character to watch: Jeremy Renner as James Coughlin.
Journal your answers to the following questions after you watch the movie.
How does this particular character's journey compare with yours?
Did the character develop certain characteristics during the movie that you have or that you would like to have? If so, what are those characteristics?
What obstacles did this character face? What was his or her biggest challenge?
What would you have done differently if you had been in the same position as the character?
Is this character the type of person you would be friends with? Why or why not?