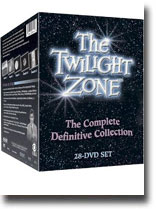 For the first time ever, find all 156 complete episodes of Rod Serling's groundbreaking series in one box set, packed with exciting extras. Travel to another dimension of sight and sound again and again through these stellar remastered high-definition film transfers.
Extras include the fascinating Serling bio-documentary Submitted for Your Approval, compelling interviews with the show's writers, the series' unaired pilot, audio commentaries with Martin Landau, Leonard Nimoy, Cliff Robertson and much, much more.
Submitted for your approval: The Twilight Zone's inaugural season, all 36 episodes complete with Rod Serling's original promos for the following week's episode, not seen since their original broadcast. To discuss television's greatest anthology series whose title has become pop culture shorthand for the bizarre and supernatural is to immediately become like Albert Brooks and Dan Aykroyd in Twilight Zone: The Movie; a can-you-top-this recall of famous shocks and favorite twists.Several essential episodes hail from this season, among them, "Time Enough at Last" starring Burgess Meredith as a bespectacled bookworm who is the lone survivor of an atomic blast; "The After-Hours" starring Anne Francis as a department store shopper haunted by mannequins; and the profoundly disturbing "The Monsters Are Due on Maple Street," in which fear and prejudice turns neighbor against neighbor.
From an unsettlingly persistent hitchhiker to a malevolent slot machine, The Twilight Zone's first season did plumb "the pit of man's fears." One forgets how moving the series could be. Three of this season's most memorable and enduring episodes are the poignant and primal "stop-the-world-I-want-to-get-off fantasies, "Walking Distance," "A Stop at Willougby" and "The Sixteen-Millimeter Shrine," in which desperate characters seek refuge in a simpler past. Serling's few stabs at comedy ("Mr. Bevis," "The Mighty Casey") have not aged well, but the series finale, "A World of His Own," starring Keenan Wynn as a playwright whose fictional characters come to life, has a brilliant capper.
The episodes are more deliberately paced than one might remember. Less patient younger viewers might be anxious to get to the payoffs, but once they settle into the rhythm, they will savor the literate writing and the performances by such veteran actors as Ed Wynn, Everett Sloan, and Ida Lupino, and newcomers such as Jack Klugman. The extras, including the unaired version of the pilot episode, "Where is Everybody?", audio commentaries and recollections, and a Serling college lecture, truly take this six-disc set to another dimension.

Character to watch: Pick a unique character from each show.
Journal your answers to the following questions after you watch the series.
How does this particular character's journey compare with yours?
Did the character develop certain characteristics during the movie that you have or that you would like to have? If so, what are those characteristics?
What obstacles did this character face? What was his or her biggest challenge?
What would you have done differently if you had been in the same position as the character?
Is this character the type of person you would be friends with? Why or why not?