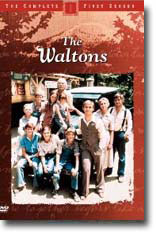 The Waltons' nearly 10-year run on network television grew out of the popular, 1971 made-for-TV movie The Homecoming, which was derived from a Depression-era, rustic setting ("Walton's Mountain"), and characters based on Earl Hamner Jr.'s autobiographical novel Spencer's Mountain–itself the source for a very nice 1963 feature film starring Henry Fonda and Maureen O'Hara.That's a lot of entertainment sprouting from Hamner's prose. But something about his seminal story of family values, rugged independence, and big dreams amidst a hardscrabble existence captured the hearts of American audiences, many of whom personally recalled severe economic adversity in the 1930s.
The Waltons: The Complete First Season collects those initial episodes from the series building on the strengths of the Homecoming pilot, which introduced the extended Walton clan led by a strong-willed mill owner, John (Andrew Duggan), and his equally resolute wife, Olivia (Patricia Neal).
The Waltons recast those key roles (as well as a few others) with Ralph Waite and Michael Learned (yup, a female), but Richard Thomas carried over as oldest child John-Boy Walton, an aspiring writer whose cusp-of-manhood view informs the series. Will Geer (Seconds) replaced Edgar Bergen as Grandpa Walton, Ellen Corby remained as Grandma, and John and Olivia's large brood (seven kids in all) were filled out by largely unknown, young actors.
The episodes, still delightful and touching, strong on production values and unusually tight and polished for primetime drama, tended to focus on creator Hamner's pet themes of self-sacrifice and heroic effort when the going got tough.
Year 1 highlights include "The Carnival," in which the impoverished Waltons, who can't pay for tickets to see a circus performance, end up sheltering stranded carney folk. "The Typewriter" is a classic about John-Boy "borrowing" a museum's antique typewriter, only to have his sister Mary Ellen (Judy Norton) sell it as junk.
"The Sinner" concerns the arrival of a fundamentalist minister on Walton's Mountain, finding comfort in the words of religious iconoclast John Walton after the clergyman makes a fool of himself with moonshine. That's Hamner himself providing touches of narration. During the long run of the multiple-award-winning The Waltons, there were many changes in casting and storylines.

Character to watch: Andrew Duggan as John Walton.
Journal your answers to the following questions after you watch the series.
How does this particular character's journey compare with yours?
Did the character develop certain characteristics during the movie that you have or that you would like to have? If so, what are those characteristics?
What obstacles did this character face? What was his or her biggest challenge?
What would you have done differently if you had been in the same position as the character?
Is this character the type of person you would be friends with? Why or why not?