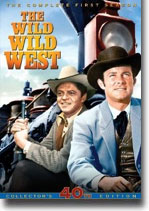 CBS had an instant hit on their hands when The Wild Wild West made its network debut on September 17, 1965. While many of the popular TV Westerns were running out of steam, series creator Michael Garrison ripped a page from the Ian Fleming/Sean Connery playbook and conceived The Wild Wild West as a "James Bond Western," energizing the genre by combining a traditional Western setting (primarily the San Francisco region in the 1870s) with the accoutrements of the spy genre.
It was a foolproof formula, further refined by producer Fred Frieberger (who later produced the third and final season of Star Trek), and TWWW held its popular time-slot (7:30-8:30 on Friday nights) for its entire four-season run. Smart casting proved to be another source of audience appeal: While Robert Conrad fit nicely into his role (and tight-fitting costume) as macho Secret Service agent James West, doing his own challenging stunts and charming each episode's obligatory beautiful female guest star, Ross Martin proved an equally excellent choice to play West's skillful sidekick Artemus Gordon, a debonair dandy whose mastery of disguises and dialects would prove essential as they tackled dangerous crime-fighting assignments from President Ulysses S. Grant.
The series' unique appeal arose from its clever and frequently bizarre plots. Every episode title began with a variation of "The Night of…" (including the pilot, "The Night of the Inferno," with more unusual titles thereafter), and as Jim and Arte plotted strategies from the comfort of their tricked-out custom railroad car, their exploits frequently led them into realms of the occult, mad science, bizarre inventions, and villains so eccentrically twisted that they became instant favorites among the show's growing legion of fans.
Best of them all was the nefarious Miguelito Loveless, first appearing in "The Night the Wizard Shook the Earth" (original airdate 10/01/65) and played to perfection by dwarf actor Michael Dunn, a '60s TV regular familiar to Star Trek fans from his memorable role in the original series episode "Plato's Stepchildren." A gifted, intellectual renaissance man (like Ross Martin) with an angelic singing voice, Dunn was an overnight sensation, guest-starring in four of the first season's 28 episodes, with six more appearances in subsequent seasons.
Dunn's gleeful malevolence (accompanied by his mute henchman Voltaire, played by giant actor Richard Kiel) was an essential addition to the series' sideshow esthetic; weirdness, humor, gorgeous women, and devious ingenuity (in plotting, action and gadgetry), became the trademarks that set TWWW apart from its more conventional TV Western competition.
This show was pure fun. From the cliffhanger endings to each act , the great gadgets and disguises that Arty would use to Jim West's six shooters and fists. It was kind of a 'Western' version of Batman, now that I reflect on it. Great campy villains, wonderful (repetitive) plot lines and cute females for the boys to compete over.

Character to watch: Robert Conrad as James T. West.
Journal your answers to the following questions after you watch the series.
How does this particular character's journey compare with yours?
Did the character develop certain characteristics during the movie that you have or that you would like to have? If so, what are those characteristics?
What obstacles did this character face? What was his or her biggest challenge?
What would you have done differently if you had been in the same position as the character?
Is this character the type of person you would be friends with? Why or why not?