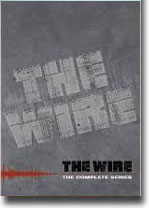 After one episode of The Wire you'll be hooked. After three, you'll be astonished by the precision of its storytelling. After viewing all 13 episodes of the HBO series' remarkable first season, you'll be cheering a bona-fide American masterpiece.
Series creator David Simon was a veteran crime reporter from The Baltimore Sun who cowrote the book that inspired TV's Homicide, and cowriter Ed Burns was a Baltimore cop, lending impeccable street-cred to an inner-city Baltimore saga (and companion piece to The Corner) that Simon aptly describes as "a visual novel" and "a treatise on institutions and individuals" as opposed to a conventional good-vs.-evil police procedural.
Owing a creative debt to the novels of Richard Price, the series opens as maverick Detective Jimmy McNulty (Dominic West) is tapping into a vast network of drugs and death around southwest Baltimore's deteriorating housing projects. With a mandate to get results ASAP, a haphazard team is assembled to join McNulty's increasingly complex investigation, built upon countless hours of electronic surveillance.
The show's split-perspective plotting is so richly layered, so breathtakingly authentic and based on finely drawn characters brought to life by a perfect ensemble cast, that it defies concise description. Simon, Burns, and their cowriters control every intricate aspect of the unfolding epic; directors are top-drawer (including Clark Johnson), but they are servants to the story, resulting in a TV series like no other: unpredictable, complicated, and demanding the viewer's rapt attention.
The Wire is an angry show that refuses to comfort with easy answers to deep-rooted societal problems. Moral gray zones proliferate in a universe where ruthless killers have a logical code, and where the cops are just as ambiguous as their targets.

Character to watch: Dominic West as Detective Jimmy McNulty.
Journal your answers to the following questions after you watch the series.
How does this particular character's journey compare with yours?
Did the character develop certain characteristics during the movie that you have or that you would like to have? If so, what are those characteristics?
What obstacles did this character face? What was his or her biggest challenge?
What would you have done differently if you had been in the same position as the character?
Is this character the type of person you would be friends with? Why or why not?