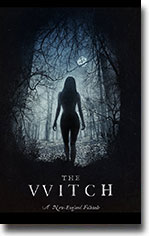 Set in 1630 New England, first time director Robert Eggers launches his debut with this unusual, creepy witch-based "folktale." Constructed from his own script, the story opens with William (Ralph Ineson) and Katherine (Kate Dickie) standing before the leaders of the settlement/plantation where they have freshly landed from England. There appears to be some disagreement as to how to practice their Christian beliefs, clearly different than what the Pilgrims had in mind. They and their 5 children are essentially banished.
The family resettles next to a dark woods and attempts to scratch out a meager existence growing corn and raising a few animals. The oldest offspring is Thomasin who has just reached menarche. She is brilliantly portrayed by Anya Taylor-Joy . Caleb (Harvey Scrimshaw) is her slightly younger brother. There are also twins about 8, Mercy and Jonas and Samuel, a newborn.
While Thomasin is playing peek-a-boo with the baby, he disappears. Not crawled away or even seen being taken. Just vanishes. The family is crushed and Katherine inconsolable. Without giving too much away, suffice it to say there is a dark force living deep in the forest.
Before getting too deep into the plot, I should caution that this isn't a fast moving story of jump-scares and isn't particular gory, at least by horror film standards. The end credits state that the story is built upon numerous folk tales historically preserved. It is clear that the deeply religious family also believes adamantly that the devil exists…and can take many forms to do his evil deeds.
Knowledge of this historical perspective is not essential to enjoying "The Witch". Certainly, the wonderful acting and gorgeously depressing visuals hold an enticement of their own, as well as an overall sense of impending dread throughout. But, make no mistake, this is not a movie that is one bit concerned with entertaining you. It's only focus is to present a story that relays it's original concept and at that, it succeeds brilliantly.
Director:  Robert Eggers
Year of Release: 2016

Character to watch: Anya Taylor-Joy as Thomasin.
Journal your answers to the following questions after you watch the movie.
How does this particular character's journey compare with yours?
Did the character develop certain characteristics during the movie that you have or that you would like to have? If so, what are those characteristics?
What obstacles did this character face? What was his or her biggest challenge?
What would you have done differently if you had been in the same position as the character?
Is this character the type of person you would be friends with? Why or why not?