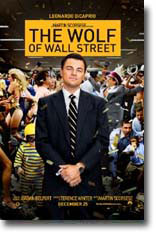 Revered filmmaker Martin Scorsese directs the story of New York stockbroker Jordan Belfort (Leonardo DiCaprio). From the American dream to corporate greed, Belfort goes from penny stocks and righteousness to IPOs and a life of corruption in the late 80s. Excess success and affluence in his early twenties as founder of the brokerage firm Stratton Oakmont warranted Belfort the title – "The Wolf of Wall Street."
Money. Power. Women. Drugs. Temptations were for the taking and the threat of authority was irrelevant. For Jordan and his wolf pack, modesty was quickly deemed overrated and more was never enough.
Based on the true story of Belfort, from his rise to a wealthy stockbroker living the high life to his fall involving crime, corruption and the federal government. Belfort, a Long Island penny stockbroker who served 36 months in prison for defrauding investors in a massive 1990s securities scam that involved widespread corruption on Wall Street and in the corporate banking world, including shoe designer Steve Madden.
Yes, the film is vulgar, it is shocking, and it is offensive, but so are the characters. They are greedy, morally reprehensible characters, but this film does not reward them. In this film, they are the butt of the joke.
Director:  Martin Scorsese
Year of Release: 2013

Character to watch: Leonardo DiCaprio as Jordan Belfort.
Journal your answers to the following questions after you watch the movie.
How does this particular character's journey compare with yours?
Did the character develop certain characteristics during the movie that you have or that you would like to have? If so, what are those characteristics?
What obstacles did this character face? What was his or her biggest challenge?
What would you have done differently if you had been in the same position as the character?
Is this character the type of person you would be friends with? Why or why not?