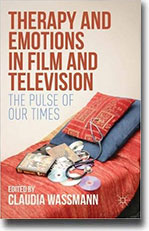 Therapy and Emotions in Film and Television explores, from an interdisciplinary perspective, the shifts in our emotional preferences, styles, and 'emotional regimes' in western societies from the 1920s to today, as viewed through the lens of film and television.
This collection contains texts by Peter Stearns on American Anger and Anger Management. Stella Bruzzi, professor of Film and Television Studies at Warwick University, writes on re-enacting trauma in film and television. The Spanish expert on audio-visual media, Miguel Huerta, dissects Woody Allen, and Sally Chivers, Trent Center for Aging and Society, gives a close reading of Michael Haneke's movie Amour (2012).
Michael Geyer, Department of History, University of Chicago states, "If textual fiction was the medium of emotions, emotional management and therapy in the 19th Century, audiovisual and digital media have taken on this role in the late 20th and 21st Centuries.
This volume opens up venues for audacious forays into a new world – a new world of transdisciplinary European scholarship as much as of the yet to be charted emotional regimes of our time and their genealogies. The collected essays make abundantly clear the wrenching dislocations – of a time in-between emotional orders, in-between modes of mediation, and in-between therapeutic regimes — that have come to characterize the contemporary world."
Author:
Year of Release: 2016