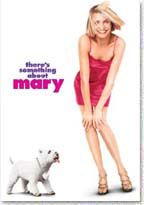 In 1985, awkward and shy 16-year-old high-schooler Ted Stroehmann (Ben Stiller) lands a prom date with his dream girl Mary Jensen (Cameron Diaz), only to have it cut short by a painful and embarrassing zipper accident. After the ordeal garners the attention of numerous members of the household and community, Ted is finally carted off to the hospital. He subsequently loses touch with Mary.
Thirteen years later, Ted is still in love — maybe even obsessed — with Mary. On the advice of his best friend Dom, he hires private detective Pat Healy to track her down. Healy finds that she is an orthopedic surgeon living in Miami with her friend, Magda, but Healy falls in love with the irresistible Mary as well.
Healy resorts to lying, cheating, stalking, and drugging Magda's dog to win Mary but is exposed by Mary's architect friend, Tucker, who is heavily reliant on crutches and speaks with an English accent. Tucker, however, turns out to be a fraud himself, as he is an able-bodied and entirely American pizza delivery boy who is also in love with Mary. Tucker drives potential rivals away by slander, among them Brett Favre (the football star, playing himself).
There's Something about Mary is a mélange of every kind of comedy. There's slapstick, physical situation, and intellectual social satire. This movie made Ben Stiller and rightly so. I recall seeing it in the theatre and not being able to breathe at times due to the convulsions erupting from my abdomen. No time was this more true than when Stiller walks into the gay rest stop and gets busted, but there are a million scenarios that could be cited.
All the actors were sensational. Matt Dillon's character is exquisite in his cheesiness and he really excels in his role especially when he's playing football with the "retards" and showing off his sensitive side by pummeling them on the gridiron. Chris Elliot is exceptional in his role and any film that features Jonathan Richman that much is special and rare. I could not recommend this one any more.
Directors: Bobby Farrelly, Peter Farrelly
Year of Release: 1988

Character to watch: Ben Stiller as Ted Stroehmann.
Journal your answers to the following questions after you watch the movie.
How does this particular character's journey compare with yours?
Did the character develop certain characteristics during the movie that you have or that you would like to have? If so, what are those characteristics?
What obstacles did this character face? What was his or her biggest challenge?
What would you have done differently if you had been in the same position as the character?
Is this character the type of person you would be friends with? Why or why not?