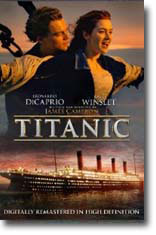 A bona fide pop-cultural phenomenon, Titanic has all the ingredients of a blockbuster with romance, passion, luxury, grand scale, a snidely villain, and an epic, life-threatening crisis. The film is a combination of absolute authenticity with a pair of fictional lovers whose tragic fate would draw viewers into the heart-wrenching reality of the Titanic disaster.
Starving artist Jack Dawson (Leonardi DiCaprio) and soon-to-be-married socialite Rose DeWitt Bukater (Kate Winslet) won the hearts of viewers around the world. Their brief, but never forgotten, love affair provides the humanity needed to turn Titanic into a moving emotional experience.
When the theatrical release of James Cameron's Titanic was delayed from July to December of 1997, media pundits speculated that Cameron's $200-million disaster epic would cause the director's downfall, signal the end of the blockbuster era, and sink Paramount Pictures as quickly as the ill-fated luxury liner had sunk on that fateful night of April 14, 1912.
Titanic would surpass the $1-billion mark in global box-office receipts, win 11 Academy Awards including Best Picture and Director, launch the best-selling movie soundtrack of all time, and make a global superstar of DiCaprio.
Although some of the computer-generated visual effects look artificial, others–such as the climactic splitting of the ship's sinking hull–are state-of-the-art marvels of cinematic ingenuity. It's an event film and a monument to director Cameron's risk-taking audacity, blending the tragic irony of the Titanic disaster with just enough narrative invention to give the historical event its fullest and most timeless dramatic impact.
Director: James Cameron
Year of Release: 1997

Character to watch: Leonardi DiCaprio as Jack Dawson.
Journal your answers to the following questions after you watch the movie.
How does this particular character's journey compare with yours?
Did the character develop certain characteristics during the movie that you have or that you would like to have? If so, what are those characteristics?
What obstacles did this character face? What was his or her biggest challenge?
What would you have done differently if you had been in the same position as the character?
Is this character the type of person you would be friends with? Why or why not?