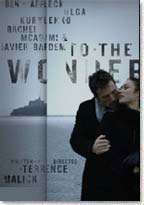 Neil (Ben Affleck) is an American traveling in Europe who meets and falls in love with Marina (Olga Kurylenko), an Ukrainian divorcée who is raising her 10-year-old daughter Tatiana in Paris. The lovers travel to Mont St. Michel, the island abbey off the coast of Normandy, basking in the wonder of their newfound romance.
Neil makes a commitment to Marina, inviting her to relocate to his native Oklahoma with Tatiana. He takes a job as an environmental inspector and Marina settles into her new life in America with passion and vigor. After a holding pattern, their relationship cools. Marina finds solace in the company of another exile, the Catholic priest Father Quintana (Javier Bardem), who is undergoing a crisis of faith.
Work pressures and increasing doubt pull Neil further apart from Marina, who returns to France with Tatiana when her visa expires. Neil reconnects with Jane (Rachel McAdams), an old flame. They fall in love until Neil learns that Marina has fallen on hard times.
Terrance Malick films can't be seen just once. You have to watch them over and over again to pick up the message. I have only seen the movie once but what I took away from this film was that it was a profound, very profound actually, meditation on love but especially love in a Christian sense. The voice overs referring to "the love that loves us" are a subtle hint, as is the name of the movie. In the movie we learn that the Wonder is Mont St-Michele, one of the most beautiful churches in the world.
To The Wonder though at an even deeper level is this "love that loves us". While the relationship between Neil and Marina is passionate and powerful at first it eventually fades. Yet while it is white hot we see the world, through Malick's camera lens, in what reviewer Damon Linker calls a transfigured sense. Who has not felt this way when they are in love? There is a deeper point to be made about love though and that comes from Father Quintana (Javier Bardem at his finest).
While Neil and Marina struggle with their love, on again and off again, Father Quintana struggles with love at a much deeper level, sacrificial love, the love of Christ. It was these scenes, the ones of Father Quintana working with the poor and the drug addicted on the streets as well as giving communion to prisoners, that really work.
Director: Terrence Malick
Year of Release: 2013

Character to watch:  Ben Affleck as Neil
Journal your answers to the following questions after you watch the movie.
How does this particular character's journey compare with yours?
Did the character develop certain characteristics during the movie that you have or that you would like to have? If so, what are those characteristics?
What obstacles did this character face? What was his or her biggest challenge?
What would you have done differently if you had been in the same position as the character?
Is this character the type of person you would be friends with? Why or why not?