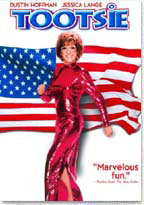 Michael Dorsey (Dustin Hoffman) is a respected but problematic actor. According to his agent George Fields (Sydney Pollack), nobody wants to hire him anymore because he is such a perfectionist. After months without a job, Michael hears of an opening on a soap opera called "Southwest General" from his friend and fellow actor, Sandy Lester (Teri Garr), who tries out for the role of a hospital administrator on the soap but does not get it. In desperation, Michael dresses as a woman, auditions for the role of "Dorothy Michaels" and gets the part.
Michael acts out his character of Dorothy as a feisty, feminist administrator and his character becomes a television sensation landing him/her on the cover of Time magazine. Dressed as Dorothy, Michael finds himself attracted to one of his co-stars, the lovely, soft-spoken Julie Nichols (Jessica Lange), a single mother in an unhealthy relationship with the show's amoral, sexist director, Ron Carlisle (Dabney Coleman).
At a party, when Michael (as himself) approaches Julie with a line that she had previously told Dorothy to which she would be receptive, she throws a drink in his face. Later, as Dorothy, when he makes tentative advances, Julie is shocked and later tells Dorothy that she likes her, but not in a romantic way.
Meanwhile, Dorothy has a slew her own admirers to contend with, including an older cast member John Van Horn (George Gaynes) and Julie's widowed father Les (Charles Durning). John follows Dorothy home, serenades her in the street, and then almost forces himself on her, stopped only when one of Michael's roommates, Jeff (Bill Murray) walks in on them. To make matters even more complicated, Les proposes marriage to Dorothy.
Director: Sydney Pollack
Year of Release: 1982

Character to watch: Dustin Hoffman as Michael Dorsey.
Journal your answers to the following questions after you watch the movie.
How does this particular character's journey compare with yours?
Did the character develop certain characteristics during the movie that you have or that you would like to have? If so, what are those characteristics?
What obstacles did this character face? What was his or her biggest challenge?
What would you have done differently if you had been in the same position as the character?
Is this character the type of person you would be friends with? Why or why not?