Director:  Jane Campion
Year of Release: 2013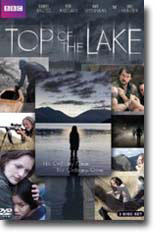 Top of the Lake begins with a mystery as Tui, a 12 year-old girl, walks chest deep into the freezing waters of a South Island lake in New Zealand. She is five months pregnant and won't say who the father is. The girl's family are an unsavory bunch. The patriarch (a great Peter Mullan) is the local crime boss and drug lord and he and his sons become quick suspects. Moss even has a past with one of the boys (Thomas M Wright).
When Tui disappears, Robin Griffin (Elisabeth Moss) is a gutsy but inexperienced detective called in to investigate. But as Robin becomes more and more obsessed with the search for her she slowly begins to realize that finding Tui is tantamount to finding herself – a self she has kept well-hidden.
Top of the Lake is a seven-part miniseries that takes its time to unravel. In many ways, this is more than just a traditional crime drama. The location becomes a significant character in a study of a community in isolation. Gorgeous New Zealand locales serve as the exotic backdrop to a land defined by those who inhabit it. Set against one of the most amazing and untouched landscapes left on the planet Top of the Lake is a powerful and haunting story about our search for happiness where the dream of paradise attracts its dark twin the fall.

Character to watch: Elisabeth Moss as Robin Griffin.
Journal your answers to the following questions after you watch the movie.
How does this particular character's journey compare with yours?
Did the character develop certain characteristics during the movie that you have or that you would like to have? If so, what are those characteristics?
What obstacles did this character face? What was his or her biggest challenge?
What would you have done differently if you had been in the same position as the character?
Is this character the type of person you would be friends with? Why or why not?