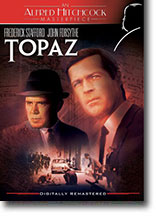 Hitchcock hadn't made a spy thriller since the 1930s, so his 1969 adaptation of Leon Uris's bestseller seemed like a curious choice for the director. But Hitchcock makes Uris's story of the West's investigation into the Soviet Union's dealings with Cuba his own.
Frederick Stafford plays a French intelligence agent who works with his American counterpart (John Forsythe) to break up a Soviet spy ring. The plot follows an episodic but compelling arc along the trail of French cold-war spy leaks. This all takes place during the height of the Cuban missile crisis.
There are a number of satisfying and inter-twining sub-stories among the large cast are well presented. For example, Philippe Dubois (Roscoe Lee Browne) has the best scenes in the film as he has to get close to the Cuban United Nations delegation visiting Harlem and staying at the Theresa Hotel to photograph some secret papers from a high official, Rico Parra (John Vernon).
These scenes were what Hitchcock called "pure cinema." The main thing that keeps Topaz interesting is the top – notch acting. Hitchcock clearly thought that great acting would triumph over starpower, which is why he filled the cast of this film with highly talented unknowns.
Director: Alfred Hitchcock
Year of Release: 1969

Character to watch: Frederick Stafford as Andre Devereaux.
Journal your answers to the following questions after you watch the movie.
How does this particular character's journey compare with yours?
Did the character develop certain characteristics during the movie that you have or that you would like to have? If so, what are those characteristics?
What obstacles did this character face? What was his or her biggest challenge?
What would you have done differently if you had been in the same position as the character?
Is this character the type of person you would be friends with? Why or why not?