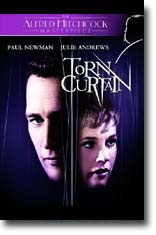 In Torn Curtain, Paul Newman plays cold war physicist Michael Armstrong, while Julie Andrews plays his lovely assistant-and-fiancée, Sarah Sherman. Armstrong has been working on a missile defense system intended to make nuclear defense obsolete, and naturally both sides are very interested. All Sarah cares about is the fact that Michael has been acting awfully fishy lately.
The suspense of Torn Curtain is by nature not as thrilling as that in the average Hitchcock film, much of it involves long pauses wondering if the bad guys are getting closer. Still, there is some beautifully clever camera work and an excruciating sequence that illustrates the frequent Hitchcock point that death is not a tidy business.
One of the more interesting characters in this film is Gromek, a German agent. He is also one of the most likable villains Hitchcock ever put to film. He throws about American jargon in wonderfully broken English while smacking on a piece of gum. Very sinister and funny at the same time, and the scene of his death definitely belongs in the Hitchcock highlight reel.
There are some amazing scenes in this film, gorgeous cinematography, stunning action scenes, a great chase and tension everywhere. This was Hitchcock's 50th film and certainly was one of the last truly good films he directed in his illustrious career.
His superb knack for creating suspense and tension is evident from the first frame and makes for a terrific piece of film making. Once the story gets going the pace and suspense never lets up as the main characters move from Norway to Copenhagen to East Berlin behind the Iron Curtain, hence the title.
Director: Alfred Hitchcock
Year of Release: 1966

Character to watch: Paul Newman as Professor Michael Armstrong.
Journal your answers to the following questions after you watch the movie.
How does this particular character's journey compare with yours?
Did the character develop certain characteristics during the movie that you have or that you would like to have? If so, what are those characteristics?
What obstacles did this character face? What was his or her biggest challenge?
What would you have done differently if you had been in the same position as the character?
Is this character the type of person you would be friends with? Why or why not?