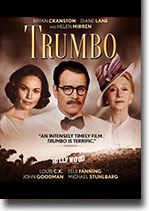 In 1947, Dalton Trumbo (Bryan Cranston) was Hollywood's top screenwriter until he and other artists were jailed and blacklisted for their political beliefs. Trumbo (directed by Jay Roach) recounts how Dalton used words and wit to win two Academy Awards and expose the absurdity and injustice of the blacklist, which entangled everyone from gossip columnist Hedda Hopper (Helen Mirren) to John Wayne, Kirk Douglas and Otto Preminger. The film also stars Diane Lane, John Goodman, Louis C.K., Elle Fanning, and Michael Stuhlbarg.
Cranston leads an all star cast in a riveting portrayal of Dalton Trumbo, one of Hollywood's most talented and best known script writers and the efforts of the House of Un-Amercian Activity to purify Hollywood and protect the American viewing public from the communist menace of the early Cold War era. Trumbo was in fact a member of the communist party, along with many of his friends, and a leading activist in trade union activity in Hollywood, a fact of no particular interest during the WWII but politically and emotionally unacceptable after the war.
At no time was it ever actually illegal to be a member. Facts quickly become irrelevant and relegated to the background as the Congressional committee and like minded friends in Hollywood like John Wayne and Hedda Hopper try to drive out of Hollywood Trumbo, his friends and countless other people as the movie makes clear and deprive them of any ability to make a living.
Trumbo and his 9 friends were brought before the committee but refused to testify and were found in contempt of Congress, for which they all served time in Federal prison, although none were apparently accused or convicted of any actual crime. Other close and similarly minded movie industry friends crumbled under the pressure to retain their status and income. But Trumbo and friends were just too talented for Hollywood to walk away from and continued to write under various fictitious names while biding their time to come out of the shadows once again.
Director:  Jay Roach
Year of Release: 2015

Character to watch: Bryan Cranston as Dalton Trumbo.
Journal your answers to the following questions after you watch the movie.
How does this particular character's journey compare with yours?
Did the character develop certain characteristics during the movie that you have or that you would like to have? If so, what are those characteristics?
What obstacles did this character face? What was his or her biggest challenge?
What would you have done differently if you had been in the same position as the character?
Is this character the type of person you would be friends with? Why or why not?