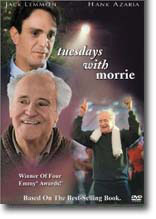 Based on a true-life story, Tuesdays With Morrie is a loving memoir to a man whose lessons on life have much to teach us about ourselves. Jack Lemmon delivers an outstanding performance as Morrie Schwartz, the Brandeis University professor upon whom the best-selling book is based. Hank Azaria plays Mitch, an accomplished journalist so driven by his job, he has little time or energy left for anything else.
One night, Mitch happens to catch Morrie's appearance on a national news program and learns his old professor is battling Lou Gehrig's disease. After the telecast, Mitch contacts Morrie, and what starts as a visit turns into a pilgrimage as Mitch opens his heart to the lessons Morrie has to teach him.
As the bond grows between these two men, Mitch learns that professional commitments don't mean anything without the love of family and friends. Sure to inspire, Tuesdays With Morrie may just change your views on the meaning of life.
This was Lemmon's last film and is was made for television. Based on Mitch Albom's nonfiction bestseller of the same name, the film dives right into the action, with Morrie (Jack Lemmon) collapsing within the first three minutes. Then it's cut to Mitch's hectic life as a sports columnist cum television host and long-term, often long-distance boyfriend. Oprah Winfrey produced this film, and her renowned touchy-feely quality is prominent as Mitch learns to love both Morrie and his own girlfriend.
Director: Mick Jackson
Year of Release: 1999

Character to watch: Jack Lemmon as Morrie Schwartz.
Journal your answers to the following questions after you watch the movie.
How does this particular character's journey compare with yours?
Did the character develop certain characteristics during the movie that you have or that you would like to have? If so, what are those characteristics?
What obstacles did this character face? What was his or her biggest challenge?
What would you have done differently if you had been in the same position as the character?
Is this character the type of person you would be friends with? Why or why not?