Author: Beverly West
Year of Release: 2005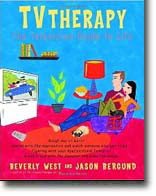 There's just no denying that where there's family, there's bound to be fire every once in a while, and the warm embrace of home can begin to feel a lot like a nuclear event. Fortunately, at times like these we can always turn to the greatest family fire retardant ever invented, family TV, to help us turn down the heat, or at least distract us long enough to forget what we were bickering about.
So when your nuclear family reactor is approaching critical mass, cool off together in front of the tube with some Dysfunctional Family TV, featuring TV families that reflect the best and the worst in all of us, and remember that the family that watches TV together stays together, at least for thirty minutes minus commercial breaks.
For example, there's The Sopranos with James Gandolfini, Edie Falco, Lorraine Bracco, Michael Imperioli, Robert Iler, and Jamie-Lynn DiScala. If there's trouble brewing in your family compound and you're ready to go to the mattresses, let The Sopranos reassure you that no matter how much excess baggage your dysfunctional family members are lugging around, at least they aren't packing heat.
The Sopranos picks up where The Godfather left off, and offers us all a front-row recliner in the life of a suburban Mafia family that has one foot in a Sam's Club brand of social acceptability, and the other planted waist deep in the vendetta-soaked soil of the Italian underworld. And what we discover is that where dysfunctional families are concerned, no matter which direction you go, you invariably wind up in Sicily.
Carmela (Edie Falco) and Tony Soprano (James Gandolfini) are suburban soccer parents who worry about their kids, their retirement, and what the neighbors think. Carmela is a good Catholic who bakes the best ziti in the neighborhood, wonders if this is all there is, still looks damn good in a pair of capris and a double-knit twin set, and overdoses daily on denial. And Tony . . . well . . . Tony is definitely pushing the outside limits of his shirt seams, in more ways than one. Thrown into the mix are two overindulged teens, a famìglia-size anxiety disorder, a mother-in-law engaged in a lifelong performance of St. Joan of the Stockyards, an overly involved psychiatrist, and a flaky sister who is perpetually losing herself in alternative religions and really, really bad relationships.
In short, the only difference between the Sopranos and the average American family is that when this tribe experiences feelings of homicidal rage, it's not just a fantasy, and the elephants in the Soprano family room are usually carrying automatic weapons.
What makes The Sopranos such strong medicine for all of us with a bad case of the dysfunctional famiglia flu is the reassurance that while this family has grappled with just about every serious family nightmare you can think of, they have nevertheless managed to stay together and alive for five seasons and counting.
Once you get past the vendettas, the extortion rackets, the pinkie rings, the Bada-Bing girls, and the extremely bad suits, you find a family that is learning, in a new way each week, that what you don't know really can hurt you, and that the ancient code of silence or death is not really such a good idea where family dynamics are concerned.
The Sopranos' struggle for survival teaches us all that fighting is not always such a bad thing, because the family that stays together is the family that can talk openly and honestly with each other, safe in the knowledge that they will never be whacked by the people that they trust most. So if your family has put out a contract on you, show up with a big pan of ziti and share a season of The Sopranos, then break some bread, talk things through, and make the peace Sicilian style.