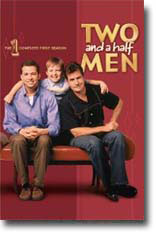 The Harper brothers Charlie (Charlie  Sheen) and Alan (Jon Cryer) are almost opposites but form a great team. They have little in common except their dislike for their mundane, maternally cold and domineering mother, Evelyn (Holland Taylor).Alan, a compulsively neat chiropractor and control-freak, is thrown out by his manipulative wife Judith (Marin Hinkle) who nevertheless gets him to pay for everything and do most jobs in the house. Charlie is a freelance jingle composer and irresistible Cassanova who lives in a luxurious beach-house and rarely gets up before noon.
Charlie "temporarily" allows Alan and his son Jake (Angus T. Jones), a food-obsessed, lazy school kid who shuttles between his parents, to move in with them after Alan's separation/divorce. The sitcom revolves around their conflicting lifestyles, raising Jake (who has the efficient, caring dad while having a ball with his fun-loving sugar uncle who teaches him boyish things), and bantering with Evelyn and various other friends and family. Other fairly regular characters include Charlie's cleaning lady Berta (Conchata Ferrell) and his rich, self-confessed stalker neighbor Rose (Melanie Lynskey) who often sneaks in to spy on Charlie.
Two other characters who are absolutely priceless are Judith's new husband, Herb Melnick (Ryan Stiles) and the local pharmacist Russell (Martin Mull). Herb is a quirky pediatrician and Russell provides prescription drugs without prescription to Charlie. These two characters add even more rich sophomoric humor to this campy series.
Although many of the storylines quickly become familiar — Charlie's careless one-night stands, Alan's money woes and battles with ex-wife Judith, both brothers' uncomfortable relationship with their less-than-maternal mother Evelyn — they never turn stale. Perhaps it's because just as in life, we all have a number of ever-present situations, so it's to be expected that the Harpers also battle the same demons on a regular basis. But it could also be that the wit and grace with which "Two and Half Men" tackle every problem is very human, and guaranteed to bring viewers near their hearts — flawed though they might be.

Character to watch: Jon Cryer as Alan Harper.
Journal your answers to the following questions after you watch the series.
How does this particular character's journey compare with yours?
Did the character develop certain characteristics during the movie that you have or that you would like to have? If so, what are those characteristics?
What obstacles did this character face? What was his or her biggest challenge?
What would you have done differently if you had been in the same position as the character?
Is this character the type of person you would be friends with? Why or why not?