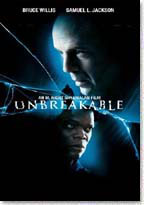 Elijah Price (Samuel L. Jackson) is born with Type I osteogenesis imperfecta, a rare disease in which his bones break easily. Based on what he has read in comic books during his many hospital stays, he theorizes that if he is frail at one extreme, then there may someone else who is unbreakable at the other extreme. By all appearances, David Dunn (Bruce Willis) may be that man.
While riding the train one afternoon, David is the sole survivor of a horrific train wreck that killed 131 passengers, sustaining no injuries himself. He is contacted by Elijah, who tries to tell David that he is a living superhero.
David initially doesn't believe Elijah, but then tries to test himself. While lifting weights with his son Joseph (Spencer Treat Clark), they discover that his physical strength is far beyond what is normal. David realizes he also has extra-sensory perception with which he can glimpse immoral acts committed by people he touches.
Unbreakable is about the mythology behind comic book superheroes and the purposes that each of us have in life. The film opens with the birth of a baby boy with all four of his limbs broken. He is Elijah Price, who is played by Samuel L. Jackson, and he has type I OI or brittle bone disease. As his life goes on, he gets the nickname of "Mr. Glass" as up the point of present time in Unbreakable, Elijah had broken bones in his body 57 times.
Elijah is motivated early on to socialize in some capacity by his mother and his primary interest becomes comic books. As he gets older he soon begins to question what the reason is for his own existence and comes to the conclusion that if people like him exist with his weakness, then surely there must be someone on the other end of the spectrum with massive strengths. Elijah believes there is nothing scarier than to live life without knowing your purpose and he makes the assertion that there are in fact real-life superheroes.
Bruce Willis plays David Dunn, a security officer, who, unlike Elijah, is trying to find his own purpose in life. He gave up his football career for his wife but now his marriage is falling apart. David survives a train wreck that kills 131 people, and he is the only survivor. He was completely unharmed. Elijah believes David to be a real superhero and gradually confronts David with his theory. David's son Joseph believes Elijah and assists David in finding out more about his potential powers. Just to add, I'm of the opinion that it is an absolute pleasure to watch Willis and Jackson act in pretty much anything.
Director: M. Night Shyamalan
Year of Release: 2000

Character to watch: Bruce Willis as David Dunn.
Journal your answers to the following questions after you watch the movie.
How does this particular character's journey compare with yours?
Did the character develop certain characteristics during the movie that you have or that you would like to have? If so, what are those characteristics?
What obstacles did this character face? What was his or her biggest challenge?
What would you have done differently if you had been in the same position as the character?
Is this character the type of person you would be friends with? Why or why not?