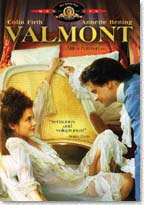 Merteuil (Annette Bening), a beautiful, wealthy widow in society, discovers that her secret lover Gercourt (Jeffrey Jones) is betrothed. She learns from her cousin Madame de Volanges (Siân Phillips) that Gercourt's new fiancée is none other than Volanges' 15-year-old daughter Cecile (Fairuza Balk). Volanges confides in Merteuil that Gercourt chose Cecile as she was raised in a convent to keep her chaste before marriage. Volanges also admits there were worries over the betrothal, as people were discussing Gercourt's former mistress's sanity.
Angered over the loss of her lover and his slight of her character, Merteuil plots to deface Cecile's virtue by having her friend Valmont (Colin Firth) seduce Cecile. Valmont declines Merteuil's request because he is trying to lure Madame de Tourvel (Meg Tilly), a married guest of his aunt who is staying in the country while her husband is abroad. Merteuil chides Valmont for his effort, and they make a wager: if Valmont succeeds in bedding Madame de Tourvel, he may bed Merteuil; if he fails, he must join a monastery.
Valmont is one of my favorite films of all time. It is so lovely to look at, with lavish sets, lovely country locations, exquisitely crafted costumes, and brilliant production design, that I have literally watched it over and over again. When you watch this movie, you are transported into the luxury of 17th Century aristocratic France. It also skillfully integrates music into the production, when Cecile and Madame de Merteuile go to the Opera, or when Cecile is performing songs with her harp.
The story comes from a novel by Choderlos de Laclos set in 18th century France that was made into a stage play by Christopher Hampton. It is a cynical satire on human sexuality as well as a very subtle examination of sexual hypocrisy and desire, a kind of oh so sophisticated laugh at bourgeois morality that would have delighted Voltaire and Moliere and greatly amused Shakespeare.
Director: Milos Forman
Year of Release: 1989

Character to watch: Colin Firth as Valmont.
Journal your answers to the following questions after you watch the movie.
How does this particular character's journey compare with yours?
Did the character develop certain characteristics during the movie that you have or that you would like to have? If so, what are those characteristics?
What obstacles did this character face? What was his or her biggest challenge?
What would you have done differently if you had been in the same position as the character?
Is this character the type of person you would be friends with? Why or why not?