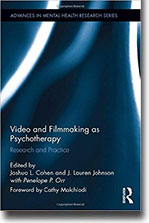 While film and video has long been used within psychological practice, researchers and practitioners have only just begun to explore the benefits of film and video production as therapy. This volume describes a burgeoning area of psychotherapy which employs the art of filmmaking and digital storytelling as a means of healing victims of trauma and abuse.
The book explores the ethical considerations behind this process, as well as its cultural and developmental implications within clinical psychology. Grounded in clinical theory and methodology, this multidisciplinary volume draws on perspectives from anthropology, psychiatry, psychology, and art therapy which support the use and integration of film/video-based therapy in practice.
Cohen received his doctoral degree in clinical psychology with an emphasis in depth psychology in 2013 from Pacifica Graduate Institute where he began his work on film/video-based therapy.  He trained as an editing intern at an ABC news affiliate and later at a training facility in Burbank California. He both consulted and worked on several projects ranging from award winning filmmakers to high profile clients.
In 2009  Cohen was clinically supervised by James Hillman, who founded a movement toward archetypal psychology. Hillman was the author of several books including Re-Visioning Psychology which was nominated for the Pulitzer Prize and the Soul's Code which was the #1 on the New York Times best selling list in 1996.  Cohen is experienced with treating trauma, addictions, mood, and anxiety disorders.
Authors:
Year of Release: 2015