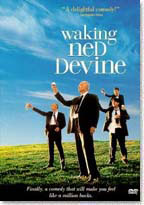 When word reaches Jackie O'Shea (Ian Bannen) and Michael O'Sullivan (David Kelly), two elderly best friends, that someone in their tiny Irish village of 52 people in Tulaigh Mhór (Tullymore) has won the Irish National Lottery's Lotto game, they, along with Jackie's wife Annie (Fionnula Flanagan), go to great lengths to find the winner so they can share the wealth.
After a chicken-dinner plot to narrow down their list of suspects, they pay a midnight visit to the only absentee: the reclusive Ned Devine (Jimmy Keogh). They find Ned in his home, still holding the ticket in his hand, a smile on his face and dead of shock. Jackie is later convinced by a dream that the deceased Ned wants to share the winnings with his friends, as he has no family to claim the ticket.
Elsewhere in the village, Maggie O'Toole (Susan Lynch) continues to spurn the romantic interests of her old flame, "Pig" Finn (James Nesbitt), a local pig farmer. Finn is convinced they belong together, as he thinks he is the father of her son Maurice, but she cannot abide him due to his ever present odor of pigs.
After discovering that the lottery winnings are far greater than anticipated, Jackie and Michael are forced to involve the entire village in fooling the claim inspector, Mr. Kelly. All but one of the villagers enter a pact to pretend that Ned is alive and well, by having Michael pose as him, even to the point of pretending Ned's funeral is a service for Michael when the claim inspector wanders into the church.
However, the local curmudgeon, Lizzie Quinn (Eileen Dromey) aka "The Witch", decides not to enter the pact and plans to report the fraud, in order to receive ten percent of the lottery share all to herself. As the villagers celebrate their winnings at the local pub, she attempts to phone the lottery office from a phone box outside the village on the edge of a cliff.
Before she can deliver her message, though, the departing claim inspector loses control of his car, forcing an oncoming van driven by the village's priest to crash into the phone box, sending it plummeting off a tall cliff and crashing to the ground below with Quinn still inside.
Director:  Kirk Jones
Year of Release: 1998

Character to watch: David Kelly as Michael O'Sullivan.
Journal your answers to the following questions after you watch the movie.
How does this particular character's journey compare with yours?
Did the character develop certain characteristics during the movie that you have or that you would like to have? If so, what are those characteristics?
What obstacles did this character face? What was his or her biggest challenge?
What would you have done differently if you had been in the same position as the character?
Is this character the type of person you would be friends with? Why or why not?